Great Graphic Novels for Kids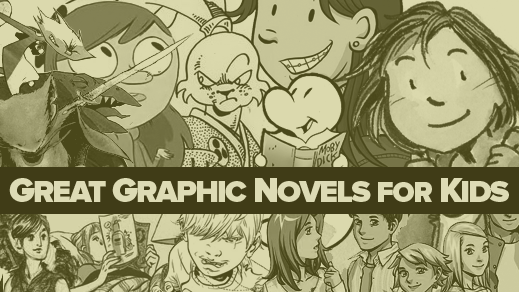 tl;dr Here's the list.

And here's a no frills printable list. Just titles, authors, and ISBNs.
For a couple years now I've wanted to do this list. More than any other request, I have people ask what graphic novels would be suitable for their children. And this is one of the questions I most want to answer. After all, if you spark a child's interest in the medium with good, solid storytelling and non-exploitative narrative, what better chance of converting them to the medium when they're older, right?
"Train up a child in the way he should go; even when he is old he will not depart from it." And all that.
But the problem is: it's a tough question to answer. Part of the reason it's taken me as long as it has to produce even this beginning of a list is that different kids are different kids and different parents are different parents. What I mean by that is that a book suitable to one seven-year-old might be too mature for another ten-year-old. And one parent might find no issue in, say, the rather chaste depictions of violence in Tintin while another might be very concerned with a comics story that makes free use of gunplay.
Basically, any list of recommendations for children will be founded on a list of caveats a mile deep. And really, I don't want to bother with any of that. I just want to recommend some good books.
The Rules
Still: we've got to start somewhere and I do want to make this list as widely useful as possible. So with that, here's what I'll propose.
I'll divide this into four categories: comics for 1) pre-k, 2) lower elementary, 3) upper elementary, and 4) junior high.11Ideally, I'll later add in recommendations for high schoolers as well. I feel less of a rush here because many high schoolers can read most of the books that I regularly recommend to adults. These categories won't be a perfect fit for any particular child save for the one existing in my imagination. My daughter's only three and I'm told my taste in reading in elementary school was... precocious.
So with that in mind, parents will want to take my recommendations and run them through whatever filters govern their own households and mindsets.
Cross-Category Enjoyment
For the most part, older reads will be able to enjoy books that I've placed in younger categories. While a few exceptions (Johnny Boo for instance) skew pretty strongly to a particularly limited age group. Most of these books will suit the age recommended and upwards. Upper elementary and junior high kids will get far more out of Bone (for an example) than the lower elementary kids to whom I recommended it. And junior high, high school, and adult readers shouldn't overlook books like Usagi Yojimbo or Twin Spica.
Reading to Kids
Obviously, reading to kids can make far more advanced books accessible to a younger set. I'm currently reading Bone to my three-year-old daughter. It's an epic fantasy adventure with themes meant for more mature readers. There's a lot of danger and several notable deaths. There're limbs lost and even a tongue gets clawed off. Left to her own, the story would probably give her nightmares. But because I am reading it to her, I can control somewhat how she'll interpret elements. I don't lie to her and pretend the dead people are just sleeping, but I help her not to dwell overlong on those things and I play up the humour in other spots and am able to help her identify with the book's heroes.
So if you see a good book in a more mature category, don't feel as if it's out of reach necessarily. Just play a part in your child's discovery of that book. You'll probably both have a lot of fun.
A Final Note to Parents
Don't treat graphic novels as a gateway drug to get kids to read "real books." Comics are a medium of their own and while there's some crossover appeal, your goal should be to inculcate in your children an appreciation for quality in our cultural artifacts. If they get the bug for good comics, they may well begin pursuing the most literary and worthwhile of the medium—just as if they caught the bug for good novels, they'd be likely to pursue the literary giants of eras past and present.
Graphic novels have their own things to say and their own way of saying those things. Enjoy them for what they are and seek out the stuff that challenges you and your children to grow in empathy, understanding, and knowledge.
Also, fun stuff is fine too!
Table of Contents
Pre-K Recommendations
Owly
Created by: Andy Runton
ISBN: 1891830627 (Amazon)
Pages: 160
Genre: Adventure
Read the Review
The Owly books feature adorable, almost wordless stories about Owly (a sometimes lonely owl) and the various friends he/she makes in the forest. Books seem themed about vaguely moral lessons on fear, hope, love, etc. Wonderful books for non-readers to learn visual storytelling.
Thematic Concerns for Parents: No concerns here.
---

Korgi
Created by: Christian Slade
ISBN: 1891830902 (Amazon)
Pages: 80
Genre: Fantasy
Korgi is also wordless and portrays a fantasy world featuring an adorable village of "fox-like" creatures—who actually strongly resemble Welsh Corgis. They go on adventures and wander and are cute.
Thematic Concerns for Parents: Korgi enters a dark place where troll-type creatures live. Some small, adventure-style danger.
---

The Secret of the Stone Frog
Created by: David Nytra
ISBN: 1935179187 (Amazon)
Pages: 80
Genre: Fantasy
The Secret of the Stone Frog is pretty much wordless. Two young siblings follow a path and then get off the path, leading to dreamlike, Nemo-esque adventures.
Thematic Concerns for Parents: Some danger to the children. Large bees.
---

Long Tail Kitty
Created by: Lark Pien
ISBN: 1934706442 (Amazon)
Pages: 51
Genre: Adventure
Long-Tail Kitty features easygoing episodic romps through Long-Tail Kitty's town, where the feline meets new friends and experiences new things. Awash with simple joy.
Thematic Concerns for Parents: Not really much anything of concern to most parents.
---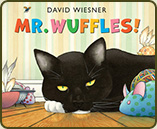 Mr. Wuffles!
Created by: David Wiesner
ISBN: 0618756612 (Amazon)
Pages: 32
Genre: Adventure
Mr. Wuffles! is an excellent nearly wordless story about intergalactic friendship in the face of a common foe. It emphasizes shared goals and culture and the memory of good friends gone. I'd describe it as being like Shaun Tan's The Arrival but for young kids. So much great detail in every page.
Thematic Concerns for Parents: A cat that wants to eat the miniature alien protagonists. Also, aliens (if you run a decidedly anti-alien household).
---
Alison and Her Rainy Day Robot by Fred Chao
Created by: Fred Chao
ISBN: ? (Buyolympia)
Pages: 64
Genre: Fantasy
Alison is bored and so, with the help of a monkey and some penguins, she builds a robot to help her have SO MUCH FUN until the sun comes back out. Only the robot only wants to do boring things, like clean up Alison's room or make a gazpacho.
Thematic Concerns for Parents: None at all.
---

Guinea Pig: Pet Shop Private Eye
Created by: Colleen AF Venable
ISBN: 0761354794 (Amazon)
Pages: 46
Genre: Detective/Comedy
Has words. There are so far six books in the Guinea Pig: Pet Shop Private Eye series. The title is ambidextrous, with Sasspants (the guinea pig) removing the G from Pig in the title, rendering it Guinea PI (of course, PI is short for Private Eye). The stories are funny and have simple mysteries to solve and are filled with amusing characters. The reading level's probably around what's appropriate for second graders, but the stories are enjoyable for kids much younger.
Thematic Concerns for Parents: None at all..
---

Johnny Boo: The Best Little Ghost in the World
Created by: James Kochalka
ISBN: 1603090134 (Amazon)
Pages: 40
Genre: Adventure
Read the Review
Has words. Johnny Boo is an inconsequential, though fun, story of a happy-go-lucky ghost and his miniature ghostly friend Squiggle. They do little more than pal around excitedly. If anything, it's a story of friendship and learning how to relate to others.
Thematic Concerns for Parents: Not really much anything of concern to most parents.
---

Monkess the Homunculus
Created by: Seth T. Hahne (this is me)
ISBN: 0692445633 (Amazon)
Pages: 48
Genre: Adventure
Watch the book being read
Has words. Monkess the Homunculus features a 100-year-old little girl who was created by scientists in the South Pacific and is functionally immortal. She meets a puffin and they become best friends.
Thematic Concerns for Parents: Monkess encounters dangerous things like lava and a tsunami, but her invulnerable nature make these events opportunities for play rather than moments of terror. There is the barest allusion to the fact that, time being what it is, the scientists who created her are no longer alive. On one page, we see a science lab/library with a couple creature skulls on display. (You can see all the pages in the video linked above to determine if these elements will be too much for your children.)
---

Little Robot
Created by: Ben Hatke
ISBN: 1626720800 (Amazon)
Pages: 144
Genre: Adventure
Has words. But not many. The little robot falls off a truck and is fixed by a socially awkward little girl. They are then pursued by robotic forces sent to recover the little robot. Most everybody ends up being friends.
Thematic Concerns for Parents: The little lost robot is pursued by a scary looking scorpion robot that intends to bring it back to the robot facility BY ANY MEANS NECESSARY. There is school-ditching afoot.
Lower Elementary Recommendations
Zita the Spacegirl
Created by: Ben Hatke
ISBN: 1603090134 (Amazon)
Pages:
Genre: Sci Fi Adventure
Read the Review
Special article: "Why I ❤ Zita the Spacegirl"
The Zita books tell the story of a girl who is accidentally sucked to the opposite end of the universe and gradually learns to become brave and selfless and kind of heroic. She is pushed to become a better person first through circumstances, then through example. Delightful and imaginative.
Thematic Concerns for Parents: Light violence and danger. Sci-fi zapping.
---

Bone
Created by: Jeff Smith
ISBN: 188896314X (Amazon)
Pages: 1300
Genre: Fantasy Adventure
Read the Review
Bone is a fantasy epic. Something like Lord of the Rings but with more humour and heart. One of the best graphic novels ever yet made. Gorgeous art and engaging story. I've been reading it to my three-year-old daughter and she adores it.
Thematic Concerns for Parents: As with any good fantasy-epic, amidst the light and hope, there is death, darkness, and the sense that all is lost. The violence though is not gratuitous and serves well the story of a kingdom's struggle to survive against evil forces that would see it doomed.
---

Hilda and the Troll / Hilda and the Midnight Giant / Hilda and the Bird Parade / Hilda and the Black Hound
Created by: Luke Pearson
ISBN: 1909263141 (Amazon) / 1907704256 (Amazon) / 1909263060 (Amazon) / 1909263184 (Amazon)
Pages: 24 / 40 / 44 / 64
Genre: Fantasy
Read the Hilda and the Troll Review / Read the Hilda and the Bird Parade
Has words. Hilda is a little girl, precocious and imaginative and good, who lives in the mountains where trolls and giants and other mythical beings live and move freely. These are whimsical stories and a lot of fun. They are short albums and are delightful bedtime reads.
Thematic Concerns for Parents: Nothing really. [Update: I had forgotten that a lost giant in the first volume, is confusedly checking a map and says "Damn it."]
---

Tintin
Created by: Hergé
ISBN: 0316358142 (Amazon)
Pages: 192
Genre: Adventure
I first began reading Tintin in 1st or 2nd grade (by 2nd grade I was definitely trying to get it to count for book reports). Tintin, the unaging, boyish protagonist, is equal parts investigator, adventurer, and target for saps to the head. He gets into wonderful scrapes and manages out of them with panache. The cast of recurring characters is suitably colourful and features a retired (and ornery) sea captain, bumbling twin detectives, a scientist of absent mind and distant ear, and a little white dog that's smarter than everyone but Tintin himself. Each of the recent editions holds three complete Tintin adventures.
Thematic Concerns for Parents: No small amount of (bloodless) gunplay and the occasional death. The sea captain has the mouth of a sailor, but his constant cursing is limited to things of the "Blue blistering barnacles!" variety.
Also, Hergé, writing from Europe in the early-to-mid twentieth century often betrays his culture's common racist perceptions. Apart from the difficult-to-get-ahold of Tintin in the Congo though, this is generally confined to portraying non-white ethnicities and non-European cultures through stereotyped lenses. Asians are mysterious and exotic, Indians are mysterious and exotic, Peruvians are mysterious, exotic, and prone to fearing eclipses. Etc. It's simultaneously distasteful and understandable (once one remembers the cultural circumstance in which Hergé lived). While the author began to recant of his worst offenses, these are still troublesome moments for parents to keep in mind.
---

Leave It to Chance
Created by: James Robison and Paul Smith
ISBN: 1582402531 (Amazon)
Pages: 112
Genre: Supernatural Adventure
Read the Review
The two slim volumes of the Nancy Drew-inspired Leave It to Chance are rollicking, fun adventures in the realm of fantasy and the supernatural. The heroine is a precocious 13-year-old and has a pet dragon.
Thematic Concerns for Parents: The heroine deals with issues such as a deceased mother and a widowed father with outmoded views on the female nature.
---

Herobear and the Kid
Created by: Mike Kunkel
ISBN: 0972125914 (Amazon)
Pages: 220
Genre: Action Adventure
Kunkel's drawings are a taste of classical animation—only without the movement. The range of expression in his characters is a beauty and they aid his able portrayal of a dynamic kid admirably. Herobear steals flavours from the tired old superhero genre and breathes fresh life into it. A sentimental look at childhood, fantasy, and the importance of familial love.
Thematic Concerns for Parents: Other than light violence of the POW-BIF-BAM variety, there is nothing that should be objectionable to most parents.
---

Uncle Scrooge
Created by: Carl Barks
ISBN: 1606995359 (Amazon)
Pages: 240
Genre: Adventure

Happily, Fantagraphics is republishing collections of Carl Barks' Uncle Scrooge stories. I found these in the library when I was in second grade and poured over them despite bearing a childish antipathy toward Disney characters. Barks' tales are fun and inventive.
Thematic Concerns for Parents: Nothing I can remember, but it has been thirty years since I read these.
---

Primates
Created by: Jim Ottaviani and Maris Wicks
ISBN: 1596438657 (Amazon)
Pages: 144
Genre: Biography, Science, Non-Fiction
Read the Review
Ottaviani and Wicks offer a delightful capsule of the foremost three names in primate ethnology, exploring the scientific work of Jane Goodall, Dian Fossey, and Biruté Galdikas.
Thematic Concerns for Parents: Nothing, really.
---

The Twin Knights
Created by: Osamu Tezuka
ISBN: 1939130018 (Amazon)
Pages: 320
Genre: Fantasy

A princess and prince are separated in infancy by polarized political rivals. The prince grows up in the forest, raised by a deer in the form of an older sister (a deer he hopes to kill as a gift to his older sister). The princess grows up alternating her appearance between that of herself and her lost brother so that the kingdom will not know that the prince is gone. There's some pretty Shakespearean lunacy afoot.
Thematic Concerns for Parents: Peril, adventure violence, deaths of main characters, starvation, torture, but done in a Disney-esque manner.
---

The Kurdles
Created by: Robert Goodin
ISBN: 1606998323 (Amazon)
Pages: 60
Genre: Mundane Fantasy
Read the Review
Sally, a teddy bear, is thrown out the window of a car and into the rain and mud by a bratty little girl. On her way to maybe find home and make sense of her plight, she runs into a grizzled unicorn, a scarecrow (I think), and a pentapus who need her help dealing with their house, which has grown a lovely purple pelt and has begun to sing.
Thematic Concerns for Parents: Abandonment, frustration, sarcasm.
---

Avatar the Last Airbender: The Promise
Created by: Gene Luen Yang and Gurihiro
ISBN: 1616550740 (Amazon)
Pages: 240
Genre: Fantasy

Continuing from the television show's conclusion, Aang the Avatar seeks to maintain harmony in the world after Sozen's defeat. The clash of cultures in new, blended civilizations mean a potential collision between Avatar Aang and Firelord Zuko.
Thematic Concerns for Parents: Same kind of adventure peril material as found in the television program.
---

Fairy Tale Comics
Created by: Emily Carroll, Luke Pearson, Los Bros Hernandez, David Mazzucchelli, etc.
ISBN: 1596438231 (Amazon)
Pages: 128
Genre: Fairy tales

An anthology of fairy tales from a handful of cultures, retold by some great comicbook creators. Especially delightful are Emily Carroll's "12 Dancing Princesses," Luke Pearson's "The Boy Who Drew Cats," and Joseph Lambert's "Rabbit Will Not Help."
Thematic Concerns for Parents: Fairy tale violence—e.g., the witch still gets pushed into the oven by Hansel and Gretel.
---

Marvel's Oz Adaptations
Created by: Eric Shanower and Skottie Young
ISBN: 0785145907 (Amazon)
Pages: 216
Genre: Fantasy
Read the Review
Skottie Young's art helps burst Eric Shanower's adaptations of L. Baum's works into vibrant life. These are fun ways to explore the mythology of Oz.
Thematic Concerns for Parents: Only the standard warning that all adventure stories should incur: there are moments of peril, which are of course designed to frighten or otherwise produce anxiety in readers.
---

Kings of Overgrove
Created by: Arel Herbrand and David Nielsen
Purchase through Kings of Overgrove website
Pages: 129
Genre: Fantasy
Read the Review
Two brothers of different temperments who are more alike than they imagine get drawn into an underground battle for a kingdom unseen, but their battle may just save their grandfather's ailing avocado grove in the world above.
Thematic Concerns for Parents: The boys have character deficiencies but work toward resolving them by tale's end. One good character dies but is rescued from death by another character's sacrifice of one-time-use magic. Another good character doesn't make it because of the prior sacrifice. There is some violence, but none of ii gratuitous or graphic. Parents may wish to read along with younger kids.
Upper Elementary Recommendations

Space Dumplins
Created by: Craig Thompson
ISBN: 0545565413 (Amazon)
320 pages
Genre: Sci-Fi adventure

Lushly illustrated. For all the scatalogical humour, Space Dumplins is a long and thought-provoking adventure.
Thematic Concerns for Parents: Lots and lots of poop humor. The dad's job is a lumberjack, which in space means he collects whale poops (logs), which are converted to fuel. His wife works in the Roids (short for asteroids but... you know). There is a massive whale spill polluting everything (whale diarrhea). Etc.
---

The Lost Boy
Created by: Greg Ruth
ISBN: 0439823323 (Amazon)
192 pages
Genre: Hometown Fantasy, Talking Animals, World-Saving

Read the Review
Gorgeously illustrated story of children saving our world and a world layered just beneath or atop our own. Nate has just moved to the neighbourhood and finds an old reel-to-reel tape recorder that reveals a strange history to the town, a town where just on the edges of one's vision are crickets in top hats riding the backs of dogs, where squirrels beckon, and where monsters lie in wait. Nate hears the recorded history of Walt, a boy from the '60s, and sets out to investigate alongside Tabitha, a town girl who is much more familiar with the situation. Awesome story. Highly recommended.
Thematic Concerns for Parents: Fantasy violence and the threat of death. One character falls into a bottomless chasm. It's implied that Walt's father is an abusive drunk.
---

Usagi Yojimbo
Created by: Stan Sakai
ISBN: 0930193881 (Amazon)
Volumes: 26+
Genre: Historical Adventure
Read the Review
Translated, Usagi Yojimbo means "Rabbit Bodyguard." Usagi Yojimbo is a long-running series following the masterless samurai, Usagi, as he traverses the warrior's path seeking enlightenment, adventure, and engagement with the wide world around him (that of feudal Japan under the Tokugawa shogunate, circa A.D 1627). While primarily a story of one rabbit's (all the characters are zoomorphs) adventure through life, UY is also intensely educational of a bygone culture. One of my favourite series of all time.
Thematic Concerns for Parents: It is rare when one of Sakai's stories does not feature death; however, these are handled well and death is not treated flippantly. There is also the matter of an illegitimate child—though the implications of this might be lost on less savvy children and his conception occurs off-camera and by implication alone.
---

Mouse Guard
Created by: David Petersen
ISBN: 1932386572 (Amazon)
Pages: 192
Genre: Fantasy Adventure
Read the Review
Mouse Guard is gorgeously illustrated and follows various mice (who are members of the guard) through various medieval-style adventures as they protect the realm and their queen from dangers within and without. The battle between a mouse and a snake in the first chapter should win some fans.
Thematic Concerns for Parents: Typical adventure violence. Nothing too gruesome. Characters will occasionally die.
---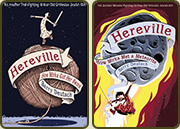 Hereville: How Mirka Got Her Sword/How Mirka Met a Meteorite
Created by: Barry Deutsch
ISBN: 1419706195 (Amazon)
Pages: 144
Genre: Adventure
Mirka (an 11-year-old girl in an insular Orthodox Jewish community) fights bullies, discovers a witch, wrestles a talking pig, honours the Sabbath, confronts a troll, and dreams big dreams. All on her way to obtaining a sword (with which she hopes to one day slay a dragon.
Thematic Concerns for Parents: Elements of danger (Mirka nearly drowns but is maybe rescued by the ghost of her dead mother). Violence in the form of fisticuffs and rock-throwing (in confrontation with bullies). Mirka hopes to kill mythical creatures. There is a confrontational relationship between Mirka and her step-mother, but it proves ultimately to be healthy and loving (and actually pretty heart-warming).
---

Shackleton: Antarctic Odyssey
Created by: Nick Bertozzi
ISBN: 1596434511 (Amazon)
Pages: 128
Genre: Biographical sketch
Retells the adventure of Shackleton's failed Endurance expedition, in which (miraculously) no explorer lost his life. An amazing testimony to human fortitude in the face of a lot of bad luck (and quite a bit of good luck).
Thematic Concerns for Parents: Constant threat of death by freezing and starvation. Parents may know ahead of time that all the explorers survive, but young readers likely won't. Also, all the dogs die.
---

Straford Zoo: Macbeth
Created by: Ian Lendler and Zach Giallongo
ISBN: 1596439157 (Amazon)
Pages: 80
Genre: Shakespeare adaptation
A very funny introduction to the works of Shakespeare for youner readers. The conceit is that at the Stratford Zoo, after the zoo closes (in what looks like a Goodnight Gorilla homage), the animals let themselves out of their cages and perform Shakespeare. In this first volume, the animals take on Macbeth. It's pretty great and readers need have no familiarity with Shakespeare to enjoy (though familiar readers will laugh when they see the Queen played by a leopard scrubbing ferociously at her own spotted fur, saying "Out! Out! Dumb spot!").
Thematic Concerns for Parents: It's Shakespeare's Macbeth, so... murder, betrayal, insanity, pride. All camped up substantially though.
---

Clan Apis
Created by: Jay Hosler
ISBN: 096772550X (Amazon)
Pages: 158
Genre: Nature Documentary
Absolutely the most engaging documentary on bees I've ever encountered. Holster, well-qualified for the task, crafts a story that follows the life of a single bee, Nyuki, from birth to maturation to timely death—all the while explaining the nuanced and cultured life of the colourful insect.
Thematic Concerns for Parents: Again, there are elements of danger and, in the end, the protagonist dies a lonely-yet-fulfilled life.
---

Tommysaurus Rex
Created by: Doug TenNapel
ISBN: 0545483832 (Amazon)
Pages: 112
Genre: Family Drama
Tommysaurus Rex tells the story of a boy whose only friend, a golden retriever named Tommy, is killed by an errant driver. In order to remedy his abiding depression over his loss, his parents ship him off to grandfather's farm for sage advice, hard work, and a surprise discovery: a tyrannosaurus that would like to be his pet. A fun, warm, sad, and hopeful story.
Thematic Concerns for Parents: As any story themed around the loss of a loved one, this tale does feature death—yet does so in most cases tenderly. Death is real and must be dealt with, even for children, and TenNapel shows us one positive way. Other worthwhile themes explored are forgiveness, mercy, and love.
---

Twin Spica
Created by: Kou Yaginuma
ISBN: 1934287849 (Amazon)
Volumes: 12
Genre: Sci-Fi Drama
Read the Review
Twin Spica tells the story of Asumi, a young teenager enrolling in the first year of Japan's space program. She intends to be an astronaut and the series follows her struggles to be chosen as Japan's first graduate to go to space. The book focuses on themes of friendship, loyalty, and following dreams. It's a poignant book, occasionally tinged with great sadness.
Thematic Concerns for Parents: The book deals with bereftness a lot. Many of the characters were affected by a disaster early in Japan's space program that took the life of Asumi's mother. One of the main characters, a lion-headed ghost whom only Asumi can see, was a pilot in that early doomed flight.
---

Smile
Created by: Raina Telgemeier
ISBN: 0545132053 (Amazon)
Pages: 224
Genre: Memoir
Read the Review
Autobiographical memoir of author Raina Telgemeier's pre-junior-high fall that left her with seriously messed up teeth and a lot of dental surgery. Follows her through the tumult of junior high and into her early years of high school. A lot of fun and a nice look at friendship and alienation and the way kids grow apart as they develop at different rates.
Thematic Concerns for Parents: Raina's accident and the ensuing doctor's visits and x-rays, while discretely portrayed and cartoony enough, still made me queasy. Your child's mileage may vary.
---

A Wrinkle in Time
Created by: Hope Larson
ISBN: 0374386153 (Amazon)
Pages: 392
Genre: Sci-Fi Fantasy
Read the Review
Probably faithful adaptation of the classic sci-fi fantasy. If you liked the original, you may adore this adaptation.
Thematic Concerns for Parents: Lots of faux-math jargon?
---

The War at Ellsmere
Created by: Faith Erin Hicks
ISBN: 159362140X (Amazon)
Pages: 144
Genre: School Drama
Read the Review
A girl arrives at a prestigious boarding school as their annual charity case and falls afoul of the popular girls. The standard fighting begins. Still, it's an amusing tale.
Thematic Concerns for Parents: Nothing so far as I can remember. Mean girls?
---
Delilah Dirk and the Turkish Lieutennant
Created by: Tony Cliff
ISBN: 1596438134 (Amazon)
Pages: 176
Genre: 18th century Mediterranean adventure
Read the Review
Bored upperclass woman Delilah Dirk, befriends Selim while breaking into and then out of a Turkish stronghold. Adventure awaits and both will have to decide what manner of life they hope to pursue if they should ever be able to stop running for their lives.
Thematic Concerns for Parents: Adventure violence and glorified adventure theft.
---

Spera
Created by: James Tierney
ISBN: 1936393301 (Amazon)
Pages: 176
Genre: Fantasy Adventure
Read the Review
Spera is a series of fantasy stories in which two princesses escape their kingdoms (and certain doom) to adventure through to the fabled land of Spera. One is a delicate and stereotypical princess, the other is tomboyish and a natural fighter. The stories deal with struggle and friendship and the adequacy of their stark differences.
Thematic Concerns for Parents: The kind of fantasy violence and dark enemies native to the genre. Nothing too spooky.
---

Mary Jane Loves Spider-Man
Created by: Sean McKeever and Takeshi Miyazawa
ISBN: 078511467X (Amazon)
Pages: around 100 pages per volume
Genre: Romance and Superheroes
Read the Review
A new take on the Spider-Man mythos from the vantage of a highschool-aged Mary Jane Watson. A delightful book that focuses more on romantic entanglements and high school drama than it does on superheroing.
Thematic Concerns for Parents: Mary Jane goes through the typical high school struggles with self-esteem, gossip, lies, and navigating bundles of emotional drama. No sex or drugs though.
---

New Frontier
Created by: Darwyn Cooke
ISBN: 1401203507 (Amazon)
Pages: 208
Genre: Superheroes
Darwyn Cooke retells and refashions the first meeting of the Justice League (Superman, Batman, Wonder Woman, Flash, Green Lantern, Martian Manhunter, etc) in a playful manner. The book is two volumes of genuinely fun superheroing.
Thematic Concerns for Parents: Some characters die.
---
Sidekicks
Created by: J. Torres and Takeshi Miyazawa
ISBN: 1929998767 (Amazon)
Pages: 144
Genre: Superheroes and Highschool Drama
A young teenaged girl gets accepted to a private high school that trains its student body to become proper superheroes. Superpowers plus highschool drama: quite a bit of fun. Unfortunately incomplete story as only one volume was ever published, but the story demands more (and the "Volume 1" on the cover suggests this was originally intended.
Thematic Concerns for Parents: Nothing really.
---

Thor: The Mighty Avenger
Created by: Roger Langridge and Chris Samnee
ISBN: 0785141219 (Amazon)
Pages: 128 per volume
Genre: Superheroes
Read the Review
A two-volume and positively delightful reboot of the Thor mythos focusing on Thor's relationship with Jane Foster. Super cute, actiony, and enjoyable—and self-contained series.
Thematic Concerns for Parents: Nothing really. Thor does, apparently sleep with Jane one romantic evening, but its so far off camera that probably only grown-ups will pick up the cue. This is it right here: Thor's blankets on the couch are folded.
---

LAIKA
Created by: Nick Abadzis
ISBN: 1596431016 (Amazon)
Pages: 208
Genre: History of space exploration
Laika review
A historical fiction lending backstory to the life of perhaps the most famous of all the cosmonauts, a little dog named Laika who proved the potential of surviving a rocket launch out of the atmosphere in the midst of the Cold War's race to space. Like all dog stories, LAIKA has a sad ending, firmly entrenching it in the tradition of Old Yeller and Where the Red Fern Grows—but any student of mid-20th-century history already knows the dog's fate.
Thematic Concerns for Parents: Commies! Cruelty to animals, sometimes for the glory of science, sometimes for the glory of the state, and sometimes because people can be awful.
---

Sherlock Holmes adaptations
Created by: Ian Edginton and I.N.J. Culbard
ISBN: 1402770820 (Amazon)
Pages: 144
Genre: Detective
Study in Scarlet Review / Hound of the Baskervilles Review
Edgington and Culbard have so far adapted, I believe, four of Conan Doyle's Sherlock Holmes adventures. And they're each pretty wonderful. So far as I'm aware, these are very faithful adaptations.
Thematic Concerns for Parents: Basically anything that was present in the original novels and shorts. Holmes uses period-appropriate narcotics. There are murders. A Study in Scarlet portrays Mormons of the day in starkly negative terms, common from that era of the cultural history.
---

The Ice Wanderer
Created by: Jirô Taniguchi
ISBN: 8496427331 (Amazon)
Pages: 240
Genre: Survival
Read the Review
A collection of Jiro Taniguchi's short stories, mainly survivalist in theme and somewhat inspired by Jack London's work (one story is even an adaptation from a harrowing episode from White Fang). Exciting and beautiful work that gives one a sense of the danger and majesty of the natural world.
Thematic Concerns for Parents: As with most survival literature, there is an element of death and danger present. In one story, two young teens get stuck in a storm at sea in a small boat. Because of the cold and rain, the girl's shirt becomes slightly and realistically nippley.
---

Castle Waiting
Created by: Linda Medley
ISBN: 1560977477 (Amazon)
Pages: 856
Genre: Faerytale Drama
Read the Review
A young woman finds refuge in a formerly magic castle, now repurposed as a sanctuary for those in need. Castle Waiting is sort of a reinvestigation of faery tale worlds and is both enjoyable and girl-friendly.
Thematic Concerns for Parents: Jane, the protagonist, arrives at the sanctuary, fleeing an abusive husband and pregnant with a baby not her husband's. The book does not dwell on these sadnesses however and Jane and the book put these things into the past.
---

Broxo
Created by: Zack Giallongo
ISBN: 1596435518 (Amazon)
Pages: 240
Genre: Adventure, Fantasy
Read the Review
A young woman (a warrior princess) travels to a remote courner of the world to seek out a lost clan. Danger and adventure greet her. Fun and exciting use of familiar sword-and-sorcery tropes.
Thematic Concerns for Parents: Fantasy violence. The undead. Witchy stuff. There is a bathing scene where Broxo ignorantly intrudes on Zora's bathing in a river. No nudity, but awkwardness on Zora's part and obliviousness on Broxo's.
---

reMIND
Created by: Jason Brubaker
ISBN: 0983114900 (Amazon)
Pages: 328
Genre: Adventure, Fantasy
Read the Review
A young woman's cat goes missing. It reappears some time later with the ability to talk. A tumultuous undersea adventure begins. Burstingly colourfaul art, exciting moments, and thoughtful characters build the foundation for a wonderful story.
Thematic Concerns for Parents: Fantasy violence.
---

Battling Boy
Created by: Paul Pope
ISBN: 1596431458 (Amazon)
Pages: 208
Genre: Superhero adventure

A cool and fun superhero adventure that subtracts the slick boredom of the overly refined and overpolished superheroes from Marvel and DC. Battling Boy makes adventure seem tough and dangerous. A thrilling read for the hero-inclined.
Thematic Concerns for Parents: Death of a hero character early on to set up the conflict. Adventure violence.
Junior High Recommendations

A Silent Voice
Created by: Yoshitoki Oima
ISBN: 163236056X (Amazon)
Pages: 192
Genre: Elementary/Highschool Drama
Read the Review
A Silent Voice follows a boy and girl through elementary school to high school and beyond. The girl is deaf and is instantly alienated in her class when the boy embarks on a tireless campaign to bully her. Then, when his pranks one day go too far, the class turns on him and he is relentlessly bullied all the way through the remainder of elementary school. By the time he reaches high school, he has determined to kill himself rather than continue to live in misery. As a last act, he apologizes to the deaf girl and is surprised when they begin a tentative friendship. That's at the end of volume 1. Super amazing series.
Thematic Concerns for Parents: Bullying, violence (in the form of punching and kicking), kids wanting to die because their lives are so miserable. Scattered bad words (surprisingly few for a series about high school students).
---

This One Summer
Created by: Mariko Tamaki and Jillian Tamaki
ISBN: 1626720940 (Amazon)
Pages: 320
Genre: Summer vacation, coming-of-age.
Read the Review
Two girls on the starting edge of the teenage years spend a summer together at the lake, playing, watching scary movies, having crushes, getting in trouble, and just kind of be-ing in the midst of other people with their own lives and problems. Delightful, lovely, and heartful. Partly nostalgia, partly fresh, This One Summer explores the boundary between childhood and young-womanhood as well as the tricky negotiation that family plays in community.
Thematic Concerns for Parents: Puberty and teen pregnancy. Miscarriage and depression. Some language, both vulgarities and misogynistic slurs like "slut," which happily a character is taken to task for. The book is rather PG (or maybe stretching into PG-13), but does deal with some grown-up topics but does so in a smart and accessible way. It's kind of like growing up.
---

Summit of the Gods
Created by: Baku Yumemakura and Jirô Taniguchi
ISBN: 8496427870 (Amazon)
Volumes: 5
Genre: Outdoors Adventure, Mountain-climbing
Read the Review
In an epic and smashingly thrilling account, the authors follow and then catch up to the legend of a mountain climber who dreams to be the best and known for being the best. Books contain gorgeous depictions of the majesty of the great peaks of the world and educate in regard to what is involved in scaling such summits. An active interest in climbing is not necessary to enjoy these exciting books (neither my wife or I care anything for the sport and we were on tenterhooks waiting to see what would happen.) So, so very good.
Thematic Concerns for Parents: Death and climbing accidents (summit climbs are highly dangerous and several characters meet expected ends). Central character, Habu, lives with his girlfriend for several years and leaves her to live in Nepal in preparation for climbing Everest; in the decade he is there, he falls into a common law marriage with a woman and begins a family only to abandon them in his obsession to summit Everest in the most dangerous way possible.
---

Nausicaä of the Valley of Wind
Created by: Hayao Miyazaki
ISBN: 1421550644 (Amazon)
Pages: 1104
Genre: Post-Apocalyptic Fantasy Adventure
Read the Review
One thousand years after mankind almost destroyed itself, Princess Nausicaä gets caught up in a continent-spanning adventure in the midst of a costly war between two nations and the evolving environmental chaos. Wildly imaginative, Nausicaä's thoughtful protagonists, sympathetic antagonists, political intrigue, and environmental message make it one of the best and most engaging graphic novels out there.
Thematic Concerns for Parents: In the midst of war, Miyazaki doesn't shy away from depicting death. A for-the-most-part-pacifist, though, he never uses his art to glorify violence and Nausicaä herself does what she can to prevent the deaths of even her enemies. Late in the story, there is a page in which Nausicaä is being rejuvenated in an herbal bath. She is briefly seen topless, though the scene is rather chaste and she is drawn with little detail. Here is that page.
---

Cross Game
Created by: Mitsuro Adachi
ISBN: 1421537583 (Amazon)
Volumes: 8
Genre: Sports Romance
Read the Review
Cross Game is a a delightful, compulsive read. It's a romance incognito as a baseball drama. I mean, to be fair, it's a baseball drama. But it was the romance that drew me in so soundly. That and the robust family and relational dynamics. Cross Game excels as well at depicting grief and brings the reader into the grieving process. It's a book that capitalizes on heart and humour. It's an exciting work and one that uses subtlety in its storytelling, encouraging readers to learn to pay attention to the visual-verbal details the author leaves around. Both my wife and I consumed this too quickly, reading late-late into the night. Even when we had work the next day.
Thematic Concerns for Parents: Cross Game deals with the death of a main character early on in its first volume. It can be very sad in places. Also: while much more tame than Adachi's other works, the book features a small amount of fan service (i.e. the sexual objectification of females for the excitement of its young male readership). This is indicative of what will very occasionally pop up in the book's eight volumes. (reads right-to-left in Japanese style)
---
In Real Life
Created by: Cory Doctorow and Jen Wang
ISBN: 1596436581 (Amazon)
Pages: 192
Genre: YA cyber drama
A teenage girl joins a female-positive guild in a popular MMO game (kind of a World of Warcraft stand-in) where she is confronted with the issue of the "Chinese gold farmer" and the reality of the people behind those game-breaking avatars. She is predictably righteous and naive and nearly ruins everything. BUt things turn out okay and lessons are learned. I good introduction to cross-cultural distinctions for young readers accustomed to the privileged West.
Thematic Concerns for Parents: Some small-scale online, in-game bullying (what we call griefing). Confrontation with the reality of sweatshop labour and the awkwardnessprivilege of being north of Mexico in North-America.
---

The Shadow Hero
Created by: Gene Luen Yang and Sonny Liew
ISBN: 1596436972 (Amazon)
Pages: 176
Genre: Mid-20th century superhero
A young Chinese-American, in 1940s Chinatown, happens upon the powers of the Green Turtle. Examines race and identity.
Thematic Concerns for Parents: Typical superhero violence. Uncle-Ben-style death of father figure. Confrontation of racist attitudes.
---
The Boxer: The True Story of Holocaust Survivor Harry Haft
Created by: Reinhard Kleist
ISBN: 1906838771 (Amazon)
Pages: 200
Genre: Holocaust narrative, biographical
Read the Review
Follows the life and circumstances of Harry Haft, a Polish Jew sent to Auschwitz, and forced to box other camp victims for the amusement of the SS officers. Fascinating and harrowing.
Thematic Concerns for Parents: It's holocaust narrative so the story is plagued by death and tragedy. Valuable, but it is what it is.
---
Anya's Ghost
Created by: Vera Brosgol
ISBN: 1596437138 (Amazon)
Pages: 224
Genre: Highschool Drama
Read the Review
An American high schooler immigrated from Russia tries desperately to assimilate so completely into high school culture that her Russia-ness is forgotten. All the usual high school drama, but done very well. Also, she finds a ghost. Deals with themes of self-worth, cultural distinction, and alienation.
Thematic Concerns for Parents: The ghost convinces Anya to dress in a "sexy" manner with which Anya is uncomfortable in order to catch the eye of a guys she likes. High school is filled with players.
---

Friends With Boys
Created by: Faith Erin Hicks
ISBN: 1596435569 (Amazon)
Pages: 224
Genre: Highschool Drama
Read the Review
Maggie, a formerly homeschooled girl (with three older brothers), tries to adapt in her first year of high school—and first year of not being homeschooled (after her mother unceremoniously leaves the family for new horizons). Hijinks and awkwardness abound. Also, a ghost that only Maggie can see.
Thematic Concerns for Parents: A delinquent mother who is never seen save for in flashback.
---

Pluto
Created by: Naoki Urusawa
ISBN: 1421519186 (Amazon)
Volumes: 8
Genre: Sci-Fi
Read the Review
Pluto is a futuristic thriller with a light dash of whodunnit that follows an investigation into the recent murders of famous scientists and the robots they designed. A good story compelling told, but one of the most amazing features is how deeply Urusawa invests the readers into the plight of robots.
Thematic Concerns for Parents: The story follows a detective on the trail to solving a procession of murders, so it deals with death quite frequently.
---

Mister Blank
Created by: Christopher Hick
ISBN: 0943151252 (Amazon)
Pages: 360
Genre: Adventure
Sam Smith's life is ripe for upheaval. A nameless employee at a megacorporation, he stumbles upon a crime and decides to do the right thing. From that moment on, he is continually caught up in larger and larger adventures, culminating at last in the a struggle that has been going on since the dawn of time. The characters are all likable, even the villains—which always makes for better storytelling.
Thematic Concerns for Parents: Besides the violence and prevalent mayhem, one of the chief villains is Lillith, immortal seductress and Adam's first wife, who fell on her own and did not take Adam with her. There is sex by implication.
---

Treasury of Victorian Murder / Treasury of 20th Century Murder
Created by: Rick Geary
ISBN: 1561631892 (Amazon)
Pages: 80
Genre: True Crime / Non-fiction
Read the Review
Each volume of Geary's collections present a non-fictional, documentary look at a particular murder or murderer. From Jack the Ripper to Lizzie Borden to H.H. Holmes to the Lindbergh Child's Kidnapping, these books offer a usually dispassionate look into two centuries of famous murders.
Thematic Concerns for Parents: Beyond the fact of the murders themselves (generally treated in non-gratuitous manner), the facts of each case may deal with other moral failings (such as adultery and licentiousness and gossip). My advice: research each case before giving your nephew one of these for Christmas.
---
American Born Chinese
Created by: Gene Luen Yang
ISBN: 1596431520 (Amazon)
Pages: 240
Genre: Highschool Drama
Read the Review
Three stories weave together and chart the immigrant experience of a non-immigrant. Children from immigrant families or minority groups may readily understand the struggles Yang records. Caucasian non-foreigners may find in this work the opportunity to gain new empathy for others who might not have so privileged an American experience.
Thematic Concerns for Parents: Apart from an intentionally racist parody of how many Americans have treated the Chinese stereotype, nothing of concern. The work, though simple on the face of it, is probably too nuanced for many junior highers.
---

Town of Evening Calm, Country of Cherry Blossoms
Created by: Fumiyo Kouno
ISBN: 0867196653 (Amazon)
Pages: 104
Genre: Postwar Social Issues
Read the Review
Fumiyo Kouno wrestles with the human fallout of the bombing of Hiroshima in the decades after. A delicate, sensitive, and important work, I'd only recommend for mature, thoughtful kids.
Thematic Concerns for Parents: Death. This book deals with death.
---
Domu: A Child's Dream
Created by: Katsuhiro Otomo
ISBN: 156971116X (Amazon)
Pages: 240
Genre: Supernatural Horror
A psychic horror book in which an old man uses telekinetic powers to occasionally kill members of his apartment complex. A new resident, a young girl who is herself telekinetic, finds out and does what she can to stop him.
Thematic Concerns for Parents: Creepy and violent.
---

Joe the Barbarian
Created by: Grant Morrison and Sean Murphy
ISBN: 1401229719 (Amazon)
Pages: 224
Genre: Fantasy / Highschool Drama
Read the Review
A high school student in the midst of insulin shock finds himself in a fantasy realm in which he is tasked with saving everything—the only question is whether this is real or just a terrible hallucination.
Thematic Concerns for Parents: Some fantasy violence and a kid who may or may not die from insulin shock.
---

Persepolis, vol. 1
Created by: Marjane Satrapi
ISBN: 037571457X (Amazon)
Pages: 160
Genre: Memoir
Author Satrapi reccounts her childhood in Iran circa 1980. Historical and informative—and actually pretty charming.
Thematic Concerns for Parents: Book takes a particular view of the political and religious state of Iran that some parents might take issue with. Also, while volume 1 is fantastic, volume 2 is a chore (I do not recommend it).
---

Beasts of Burden
Created by: Evan Dorkin, Jill Thompson
ISBN: 1595825134 (Amazon)
Pages: 184
Genre: Pet Horror
Read the Review
The pets of a small suburban community form a group to investigate paranormal excesses around the town. It's like BPRD/X-Files crossed with The Incredible Journey.
Thematic Concerns for Parents: Zombies and witches. And pets in mortal danger.
---

Elmer
Created by: Gerry Alanguilan
ISBN: 159362204X (Amazon)
Pages: 144
Genre: Fable
One day, all the chickens in the world suddenly become sentient and begin to speak the languages of the world. The book explores how the human world might assimilate a new group of persons.
Thematic Concerns for Parents: As is common throughout human history, the meeting of two distinct peoples is marked by confusion, violence, fear, and hatred. There is a lot of violence and bigotry directed at the sentient chickens.
---

Feynman
Created by: Jim Ottaviani and Leland Myrick
ISBN: 1596432594 (Amazon)
Pages: 272
Genre: Science Biography
Read the Review
An enjoyable, humourous, and informative biography of 20th century physicist Richard Feynman. A great way to both explore a life and experience somewhat the wonder of science.
Thematic Concerns for Parents: As in most biography, Feynman's biographer includes his subject's foibles as well as his greatnesses, in this case, Feynman's eye for young, pretty women.
---

Nothing Can Possibly Go Wrong
Created by: Prudence Shen and Faith Erin Hicks
ISBN: 159643659X (Amazon)
Pages: 288
Genre:

Wacky teens doing the wacky teen things that wacky teens tend to do in stories set in high schools. Fun and funny. Geeky, robot-building students need to raise money for a competition while the cheerleader squad needs the same money for new uniforms. Stuck in the middle is Charlie, a basketball player who's best friend heads the robot-builders and ex-girlfriend leads the cheerleaders. Wacky!
Thematic Concerns for Parents: Nothing much to object to. Willful misuse of a parent's vehicle? School vandalism? Pretty par for the course on the teenage adventure front.
---

March: Book One
Created by: Rep. John Lewis, Andrew Aydin, Nate Powell
ISBN: 1603093001 (Amazon)
Pages: 128
Genre: Civil rights history, Memoir
Read the Review
Congressman John Lewis recounts his history within the early Civil Rights Movement.
Thematic Concerns for Parents: True-to-history racial tension, racism, foul language appropriate to the era and conflict. Historical violence.
---

The Silence of Our Friends
Created by: Mark Long, Jim Demonakos and Nate Powell
ISBN: 1596436182 (Amazon)
Pages: 208
Genre: Civil rights history

A story set in 1968 Houston in the midst of the Civil Rights conflicts, a story of family, of racial tension, and of learning to love.
Thematic Concerns for Parents: True-to-history racial tension, racism, foul language appropriate to the era and conflict. Historical violence.
---

Boxers & Saints
Created by: Gene Luen Yang
ISBN: 1596439246 (Amazon)
Pages: 512
Genre: Historical fiction
Read the Review
Two stories telling two sides of the Boxer Rebellion and the social pressures that led to it. Fantastic entry point into consideration of both a historical, international event and gaining a foothold into empathy for one who holds to and oppositional ideology.
Thematic Concerns for Parents: While drawing in simple, cartoony fashion, Yang does not shy from the fact that he is depicting a brutal historical conflict. Also, true to the historical record, some characters fear the (believed) poisonous influence of women and spread rumors that their enemies (bizarrely enough) have woven their flags from female pubic hairs. There is no sexual content apart from these rumours.
---

Pride of Baghdad
Created by: Brian K. Vaughan and Niko Henrichon
ISBN: 1401203140 (Amazon)
Pages: 136
Genre: War Adventure
Read the Review
Some errant American bombs release a gaggle of lions into the streets of war-torn Iraq. A look at war from a slightly-fantasy angle. Honestly, this isn't one of my favourites. It's a bit simplistic and on-the-nose, but it may make a useful conversation-starter with kids about the consequences of warfare.
Thematic Concerns for Parents: Animal death. Some by other animals, some by man. A bomb falls on a giraffe's head. A lionness inexplicably has a rape backstory.
---

Louis Riel
Created by: Chester Brown
ISBN: 1894937899 (Amazon)
Pages: 280
Genre: Canadian Biography
Read the Review
Fascinating and humourously written biography of the controversial figure from early Canadian history.
Thematic Concerns for Parents: Riel is a bit of a crazy religious fanatic. He, at one point, is forced to execute a man for political reasons.
Good Ok Bad features reviews of comics, graphic novels, manga, et cetera using a rare and auspicious three-star rating system. Point systems are notoriously fiddly, so here it's been pared down to three simple possibilities:
3 Stars = Good
2 Stars = Ok
1 Star = Bad
I am Seth T. Hahne and these are my reviews.
Review copy submission may be facilitated via the Contact page.
Browse Reviews By
Other Features
Comics by Seth T. Hahne
Connect