100 Best Comics of All Time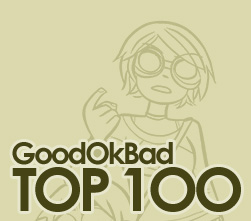 [note: last updated in 2012.]
My goal with this list is to chart whatever are the current crop of comics that I think are best from the pool of those that I have actually read (from all eras). This page will not remain static and while Sandman might have been at number 15 last time you were here, this time it might be at 12. Or 33. My tastes shift as much as yours and the evolution of this list will pay tribute to that.*
*Caveats
This is my humble attempt at ranking the best hundred comics I've read. I found the task daunting because for all the comics I've read, there are plenty I haven't gotten to yet. In most cases, it's a matter of time or resources, but in some cases, I'm reluctant due to taste. For instance, I'd really like to read Fluorescent Black (of which I hear nothing but good things), but I don't have the money and it's not available at my library (and unless I'm in the mood, inter-library loan can be a small hassle). On the other hand, you could tell me that a particular Green Latern book is amazing and I can almost guarantee you that I won't read it. While I was once an avid pursuer of the most delctable superhero books, in the thirty years since I began reading comics in earnest, my interests have largely left those stories behind. Not to judge—that's just who I've become. A reader who doesn't particularly look forward to tights and capes.

As I've grown older, my tastes have shifted, have become informed by my experiences, have matured. If I had made this list five years ago, it would look substantially different from the way it does today. And this list would look different next year from the way it does now. With that in mind, I hope to update this list periodically as I add to the number of books I've read and find my tastes shift over the years.

As far as methodology goes for this top 100 comics list, I'm weighing based on several things: my personal enjoyment of the book, its use of word and art to present story, its level of technical achievement, its value on a host of wishy-washy criteria, and how well it sets out to meet its goal. Understandably, this is highly subjective and it can be difficult to find some rubric by which to judge between, say Gary Larson's The Far Side and Alan Moore's Watchmen. If you don't see one of your favourite books on this list, please don't feel slighted. It means one of two things: either 1) I haven't read the book in question or 2) my tastes and the things I value in comics literature are different from yours. Or maybe you saw something wonderful in a book that I missed. Or maybe I saw it and you missed it. No big deal in either case.
Top 100: 1–33
Good Ok Bad features reviews of comics, graphic novels, manga, et cetera using a rare and auspicious three-star rating system. Point systems are notoriously fiddly, so here it's been pared down to three simple possibilities:
3 Stars = Good
2 Stars = Ok
1 Star = Bad
I am Seth T. Hahne and these are my reviews.

Review copy submission may be facilitated via the Contact page.
Browse Reviews By
Other Features
Popular Sections:
Best Books of the Year:
Other Features:
Connect
Comics by Seth T. Hahne