The Summit of the Gods
Created by: Baku Yumemakura
ISBN: 8496427870 (Amazon)
Pages: 383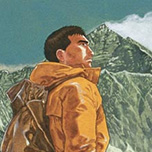 I know nothing about mountain climbing and care little for the sport. While I've backpacked a bit in the Yosemite backcountry (up around Hanging Basket at about 3000 meters) and Kings Canyon (over Lemarck Col at nearly 4000 meters), I've never actually taken to climbing at all. I had several friends who were into rock climbing out at Joshua Tree, but it just never appealed to me. Around 2002, I had a roommate who was an honest-to-goodness mountain climber (see End Note 2). He and his partner were aiming to be the first black men to scale the Seven Peaks. Everest was one of those he hadn't yet tried, but it was on the list. Still, for all that—after seeing all his gear laid out, seeing photos of him cresting the heavens, seeing the charge he got as an expedition approached—I never caught the bug. Not to climb and not to spectate.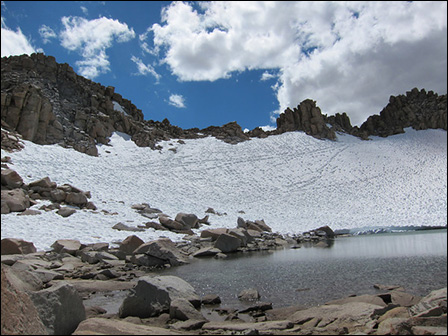 Lemarck Col. Nearly 13,000 feet. Nothing too strenuous, but beautiful.
I backpacked over it in Chuck Taylors. Because I'm a moron.
I probably just needed a narrative. I probably just needed The Summit of the Gods. Because this book. Oh, man. It crawls into your soul. You know that scene in Luke Pearson's Everything We Miss where the shadow creature wends its way through the guy's head and neck and pries his mouth open and waggles his tongue so that unbidden he says terrible things to his girlfriend? The Summit of the Gods is similar but instead of playing at cruelty with your words, this thing snakes deep within you, grips your heart's heart, and ignites your very soul. For the space of my involvement within the pages of Baku and Taniguchi's mountain-climbing epic, I am wholly theirs—and deeply enamoured with Everest and K2 and whatever other peaks they want to throw at me.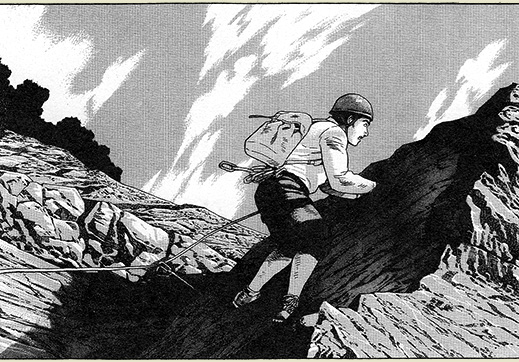 I picked up the first two volumes at the 2013 Small Press Expo. I'd hesitated for years to see what was going on in The Summit of the Gods. Despite the involvement of Jirô Taniguchi (probably one of my top ten favourite comics illustrators), the subject matter was inert to me. (As if Cross Game had taught me nothing.) I knew I'd get around to the book eventually, but I wasn't in any hurry. Still, the pull was undeniable. The book was even name dropped (or close enough to it) in The Elegance of the Hedgehog by the younger of the book's two narrators as being a proof of loveliness and beauty in the world. Hard to pass up a pitch that good. So when I stopped by Fanfare/Ponent Mon's table at SPX, I rather easily allowed myself to walk away with books in hand. I cracked the first volume while sitting on the tarmac at DCA waiting for the Naval Yard shooter to stop being a moron. I finished the second volume, heart pounding, well before landing in Orange County—kicking myself for not having purchased volumes three and four as well.
I could not have expected this. I was so excited, so thoroughly overwhelmed, that I almost did not want to read anything else for some time after. I didn't want to pollute the holy sacrosanctity of the experience Baku and Taniguchi provided. Honestly, the two deserve better than me. Book whore that I am, I grimaced in apology and started in on a Nate Powell book I hadn't yet read. As fantastic as that book was, I was still haunted by Summit. It's that good. It's probably even better than that good—which of course doesn't actually make much sense but is a fitting way to talk about an experience that's essentially a bound paper embodiment of the inimitable mystery of the human spirit. Words fail and that feels right and just. Maybe we should simply leave it at this: I was affected.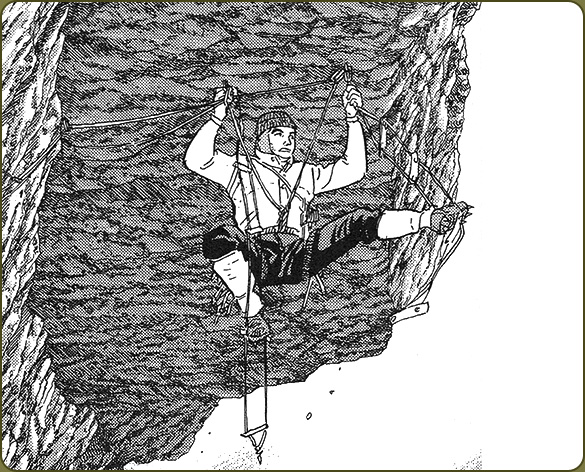 While principally interested in a particular climber and his alienating pursuit of an impossible ascent of Everest, Summit of the Gods has more ranging interests as well. In order to build suspense and appreciation, much of the first three volumes of the series is built around the recollections of a handful of climbers as they recount to an interviewer past climbs, records, and disasters. These remembrances are fascinating, thrilling, and haunting. Some of this is heart-racing, life-and-death stuff. Especially invested readers may find themselves slightly exhausted as episodes close and the narrative moves to the next foundational piece ofSummit's puzzle.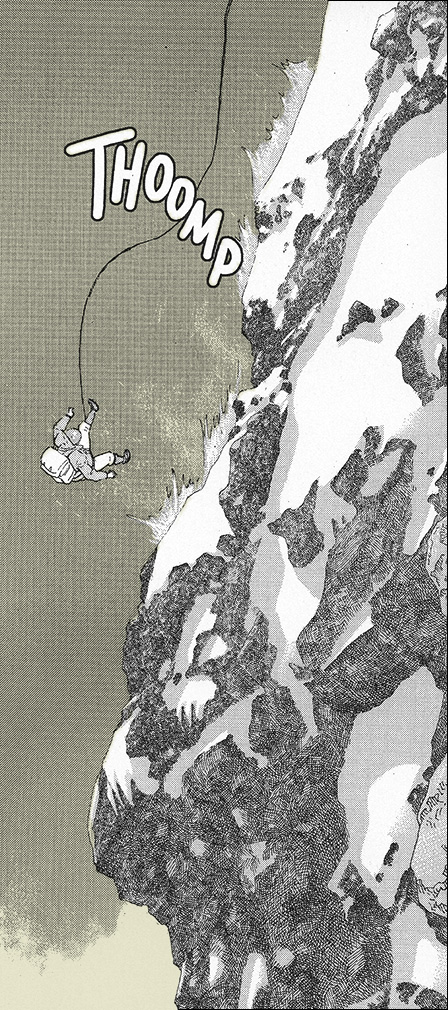 Jirô Taniguchi is the ideal artist for this work. His unparalleled ability to communicate the grandeur of an environment turns these several-inch illustrations of various peaks and ice formations into awe-striking glimpses of a world that dwarfs our own. New York City is a teaming hive of the wonder of the human creature, an ode to the potential of the species. Everest, Mont Blanc, K2, Elbrus. Though ants in the form of men do rarely light across their surfaces, these massifs and mountains and tremendous stone faces ridicule human achievement by their immensity—and Taniguchi brings that home. His sense of scale comes through seamlessly, due in part to his intricate linework and in part to his choice of panel sizes. These eruptions scraping from earth to the heavens, by Taniguchi's pen, are as much characters as the climbers themselves. I believe the work would be lesser in any other hands.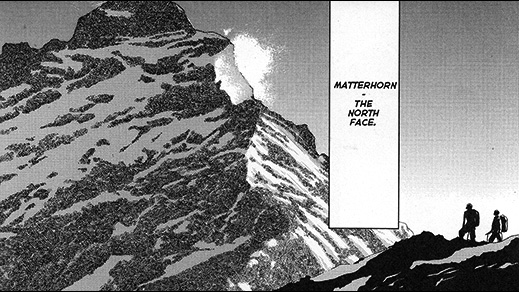 Baku, for his part adapts the novel into an abrupt and jaggedly paced thriller. However that sounds, it's a good thing. I'm not familiar with the original prose work, but I cannot believe it could be more delicious, more exciting, more nerve-trilling than these present collections. The fourth volume is due on American shores next week and I will abandon all responsibilities to read it as soon as I can, dooming myself to an excruciating wait 'til next year when the final volume emerges to coincide with the 90th anniversary of Mallory and Irvine's disappearance.11Which, incredibly enough, is something I know quite a bit about now. Summit of the Gods is one of those incredible works that inspired me to learn more about a subject. I spent hours afterward scouring Wikipedia reading about the Seven Summits, their histories, their climbers, the kinds of routes involved in climbing them. It was astounding and I'm not done yet.
There are not many books that I will recommend as strenuously as I will Summit of the Gods. No really. You need to read this. You need to read this so badly that I will shake you like you're not supposed to shake a baby if you don't read this. I don't care that that probably doesn't make any sense because it still makes more sense than you not reading Summit of the Gods. I'm serious: read Summit of the Gods. Things will be shaken otherwise.
A Note #1
This is hardly worth mentioning, but everytime my eye caught one, I'd be bothered. I'm not sure of the origin, but I'd guess that in the raw files given to Fanfare/Ponent Mon, there was some Japanese text overlaying the art, which had to be scrubbed from the English-language version. To do so, some cloning was done. Generally, it's pretty fair, but in some cases it's too obvious. The below is one of those cases (mouseover to see a highlight of the affected area—if on a tappable device, instead just focus on the four white snow blotches in a row below the word ROCK):
Of course, the reason is just speculation on my part. It could be something that occurred on the Japanese side—the correction of some error or other before the pages ever arrived in Britain for English-language adaptation. Whatever the case, it doesn't occur often, but it is present more often than I'd like. Most people will likely never notice it.
A Note #2
This is my old roommate atop the summit of Elbrus, the tallest peak in Russia.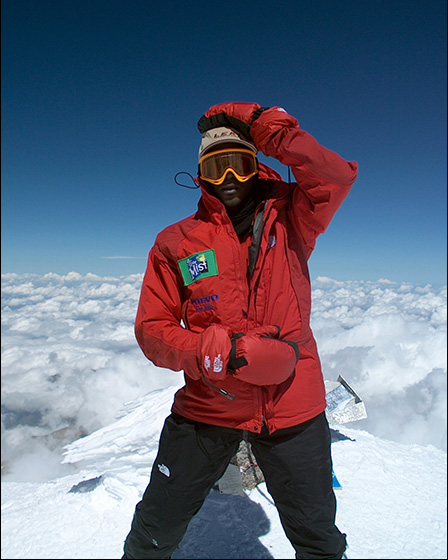 Elliot Boston III on Elbrus
I lost touch with him about a decade ago so I don't know how he's fairing in his quest to summit those seven peaks. My life's too full of such stories—friends whom I was too busy to keep up with. Lots of regrets. And yet, I remain busy. And even more busy. We're funny little people.
Good Ok Bad features reviews of comics, graphic novels, manga, et cetera using a rare and auspicious three-star rating system. Point systems are notoriously fiddly, so here it's been pared down to three simple possibilities:
3 Stars = Good
2 Stars = Ok
1 Star = Bad
I am Seth T. Hahne and these are my reviews.
Support me by buying my art on Etsy
Review copy submission may be facilitated via the Contact page.
Browse Reviews By
Other Features
Popular Sections:
Best Books of the Year:
Other Features:
Connect
Comics by Seth T. Hahne