Three Shadows
Created by: Cyril Pedrosa
ISBN: 159643239X (Amazon)
Pages: 272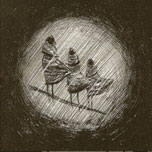 Note: Three Shadows is a book that you may prefer to come to without knowing anything of its plot or subject matter. I had the opportunity to approach the book agnostically—that is, without any knowledge of its contents. As I came to realize where Pedrosa was taking me, I experienced something that those with prior awareness will never be able to experience. So, the choice is up to you.

If you'd prefer to stop here, I'll just say that the book is very well done and is a simple treasure.
Kids, from time to time, will die from terrible conditions that for-better-or-worse will give parents a good space of time in which to quietly go mad. Leukemia, cancer, some horrible incurable disease that causes the body to slowly shut down. It happens. And it's always distasteful. And Cyril Pedrosa made a comic about it.
It's times like this that the term comic is grossly inadequate as a descriptor of what it hopes to describe.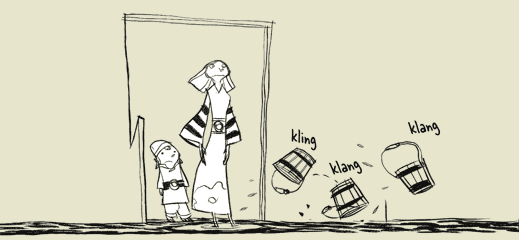 I am the father of a young daughter and the possibility of losing her haunts me. It's completely unreasonable. I live in Southern California and the probability that my daughter will at least get a full two decades of life is ridiculously high. I know this. And yet every morning I wake up and wonder if this will be it, if this will be the last day I get to enjoy my child. The thought is ever only fleeting and I don't spend my days weighted by a morbid gloom, but nonetheless the fear exists and is powerful enough to assert its presence daily.
One might reasonably presume that I would suffer some trouble while reading what amounts to a story concerning, principally, a father's reaction to the news that his only child will soon die. I didn't. And it may be to Pedrosa's credit that I could read through what should be some morbid, morbid stuff without curling up in a ball and hating the world for what it does to unlucky families.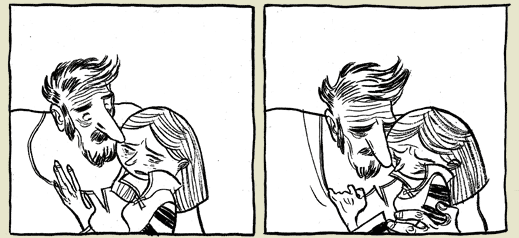 These were the exact and only two panels
that brought me anywhere close to curly-ball status.
Three Shadows, for all its heartbreak, really is a wonderful work. Pedrosa's art is dynamic and assured, balancing a deep naturalism with necessary storytelling chops. I want to see more of his work and I want to see it now. His visual sense more than compensates for how little dialogue wanders through his book. Certainly Pedrosa uses words, but more often than not, he simply uses his pagework to bring texture and life to his story about death.
Any work about such a darkly emotional topic will find itself hounded by one great threat: the danger of becoming a cheap, sentimentalist ploy. A full ninety-three percent of movies about dogs fall into this trap. Easy manipulation. Contrived heartbreak. Formulaic beats. As Hollywood shows us at least yearly, hammering on heartstrings to get a reaction and jerk some tears is child's play for even incompetent writers. Pedrosa could have gone this route and let his artwork trick us into thinking we were reading something great and whelming. He, fortunately, is better than that.
Three Shadows cloaks the misery of an unpreventable death in an almost faerytale garment. Joaquim doesn't start coughing up flecks of blood or feeling unbearably lethargic or getting shockingly sudden headaches that knock him off his feet. Instead, he one day sees three dark riders, watching him from the distance. While at first they simply seem to ride off, causing his parents to laugh off their concerns, the family soon finds that Joaquim's every movement is haunted by these dark horsemen. Lise is petrified and torn apart by her inability to care for her son. Louis, a man of tremendous power, is broken by his inability to protect his son. And quickly, Three Shadows becomes an exploration of how two parents might react to terrible news.
Pedrosa's book balances between whimsical, fantasy elements and the darkness of real-world tragedies, delivering something closer to a meditation on impending loss than a critique of how one might deal with such an inherently counter-rational experience. Despite its subject matter, Three Shadows never threatens to be more than one can take. If anything, its lessons are delivered gently and with deep empathy.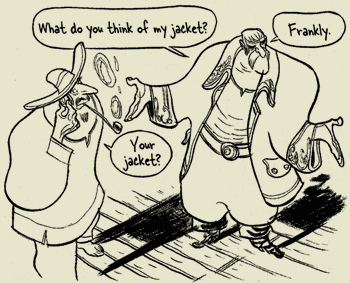 Good Ok Bad features reviews of comics, graphic novels, manga, et cetera using a rare and auspicious three-star rating system. Point systems are notoriously fiddly, so here it's been pared down to three simple possibilities:
3 Stars = Good
2 Stars = Ok
1 Star = Bad
I am Seth T. Hahne and these are my reviews.

Review copy submission may be facilitated via the Contact page.
Browse Reviews By
Other Features
Popular Sections:
Best Books of the Year:
Other Features:
Connect
Comics by Seth T. Hahne