SPX 2014
Created by: Jirô Taniguchi
ISBN: (Amazon)
Pages: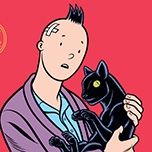 [If you would like to skip my lovely introduction and state-of-the-union address and head straight to the books, just click here.]
When I began Good Ok Bad, I was putting up three reviews per week. I was in a rush to populate the site with content, so we have a pile of very brief reviews that really only touch on whether I liked a book or not. I'm not proud of those reviews and they don't at all fit my current vision for the site. After that initial burst, I settled on a pace of two reviews per week and began evolving toward the memoir-based, more considered, brushingly low-brow lit-crit I've been aiming at for the past couple years. Eventually I came to rely on a once-per-week schedule that would accommodate the needs of my illustration work yet still keep me involved. That suited my lifestyle pretty well and allowed Good Ok Bad to remain current and relevant and growing. But then I ruined everything by visiting the 2013 Small Press Expo last year.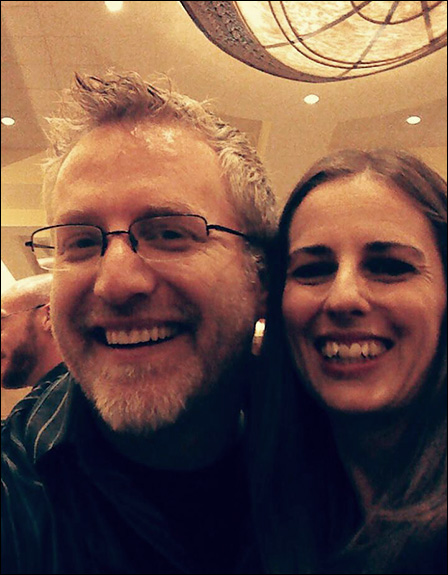 My wife and I at SPX *this* year.
My trip to SPX 2013 was a galvanizing force for me, creatively. I was so deeply impressed with everyone creating and doing their own thing (sensible and financially reasonable choices be damned) that I felt the need to create as well—pretty clearly to the detriment and neglect of Good Ok Bad. In the year since I wrote up SPX 2013, I have only written twenty-eight reviews.11Plus the Best of 2013, Kid Recommendations, and Why I Love Zita the Spacegirl articles—as well as a strange one-off for a Christian magazine recommending some great manga for Christian soccer-moms who want to dip their toe in the stream.

I've been meaning to update my Top 100 for a full year-and-a-half now—and yet it lingers untouched. Twenty-eight reviews is far below the fifty-two per year that I had planned. And while some of that was due to complications from the accident I had while riding my Vespa,22Technically both a Vespa and not-a-Vespa. I ride a Stella, which is an Indian scooter built from a 1979 Vespa mold (they partnered with Piaggio in the way-back-when, which is why they have it). the real reason was SPX fallout.
Beginning in September 2013, I began working on my own comics. SPX 2013 was such an amazing show that I wanted to join in the endeavor—not as a critic or consumer, but as a creator. It was an exciting and somewhat terrifying experience to script, pencil, ink, letter, and colour my own book. Especially as a critic. I was haunted continually by all the things I know that creators should avoid. I didn't entirely avoid these pitfalls, but it was a great experience making the effort. And I finished my first book a couple weeks before the table registration window for SPX 2014, so I thought, What the heck. I'll submit a table request, and if I get one I'll worry about the next step then. And then I got a table! And then I worried about the next and next and next and next steps.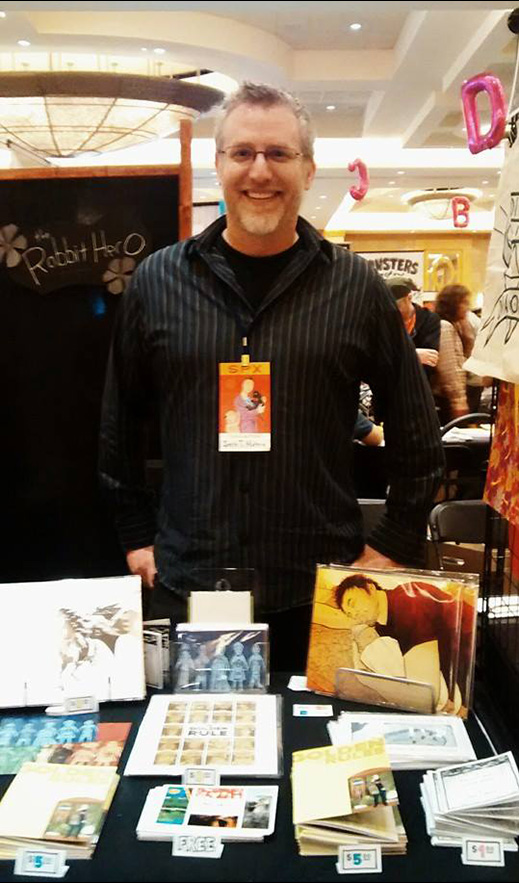 After a day and a half of tabling I was both giddy and exhausted.
This is all both to offer an apologia for the last year of minimal content on the site and to introduce the fact that my experience this year at SPX was substantially different from the prior year. I was not present at SPX 2014 as a critic, but as a creator. Because I was behind a table for much of the expo answering questions about my comic book about Men Peeing and selling people my book about a Manatee Finding True Love, I didn't get to wander the aisles like I did in 2013. When my wife would take over the table for me, my senses were entirely overwhelmed. I knew there were a handful of creators I had to see. So I'd dash over to their tables and say Hi and then have a few frantic minutes to glance at some stuff I'd never heard of. I was frazzled and exhausted and met almost Zero new people. Which doesn't mean I don't have books to talk about; it just means the books I did get might not be as adventurous. Less new material from unheard of voices. More stuff I had heard of and already knew was available.
But first, let's talk about people.
The Familiar Faces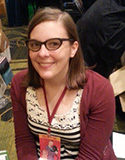 Caitlin Cass: I had the pleasure of seeing Cass, whose work was one of my most treasured finds from SPX 2013. I unreservedly adore her work and highly recommend it for those interested in the history of literature, science, philosophy, politics, and history. She pens the wonderful33I'm gushing, aren't I? Great Moments in Western Civilization, which is principally disseminated through her Postal Constituency, a through-the-mail subscription service—desirous readers can also avail themselves of a kind of Best Of collection, purchaseable even through Amazon. It was exciting to see Cass again because 1) her inclusion in the show was last minute because she was pretty deeply wait-listed (I think she was 50-deep or so, if memory serves), and 2) I got to send my wife over to meet her as well. To me SPX will always mean Caitlyn Cass, even if she isn't there. She's a big part of the reason I published my first comic.
[photo credit: Whit Spurgeon and The Comics Reporter]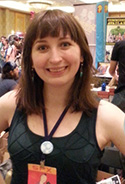 Carey Pietcsh: Pietsch was set up a table-and-a-half away from me. She was, I think, the one who encouraged me to try to get a table at SPX. Along with Cass, she probably most embodies the SPX experience for me. Last year, I picked up her comic, The Snapdragon Queen, so I looked forward to what I could get from her this year. She was kind and friendly as she was last year and occasionally checked up on me to see if I was weathering being a first-time exhibitor with anything in the neighbourhood of aplomb.
[photo credit: Whit Spurgeon and The Comics Reporter]
Dirty Diamonds (Claire Folkman and Kelly Phillips): One of my more pleasant interactions from last year was with the women who helm Dirty Diamonds, an all-women collective, and seem (at least from my limited vantage) pretty thoroughly involved in the East-Coast indie comics scene. My table was at E14 and they were at E13, so I spent the entire show standing next to Folkman and being dwarfed by the table-and-a-half grandeur of their well-conceived set-up. I had intended to pick up some of their work from this year, but made the mistake of thinking, Oh they're right next to me, No hurry! By the time close-of-business rolled around Sunday evening, I was so fuzzed that I completely forgot to browse their material. Sadness.

Zack Giallongo: Last year, I saw Giallongo and introduced myself as a big fan of his YA adventure book, Broxo. (He recognized my name from my Good Ok Bad review of his book.) I pestered him about the need for a sequel (or even pile of sequels). I did the same again this year. Because the book is so good in its niche that it demands better sales and better recognition and a pile of sequels (or even just one). Honestly, I think it might have the wrong cover—I was actually disinclined to read the book due to ambivalence for the cover. Happily, my table abutted Giallongo's on its other side, so I had plenty of opportunities to make a pest of myself.
[photo credit: Whit Spurgeon and The Comics Reporter]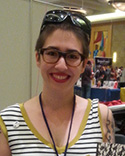 Marnie Galloway: Last year, I briefly got to talk to Galloway about how wonderful her illustrations are. I picked up vol. 1 of her book In the Sounds and the Sea. It was pretty amazing. We didn't really forge a friendship or anything, just some nice pleasantries. I followed her on Twitter. Oooooh, it's like we're best friends now, right? I didn't actually know that she was at SPX this year until my wife came back to relieve me at the table and announced that the woman who did those really cool drawings of whales and stuff was here again. I zipped over and said Hello and that I loved her work and that I had seen her the year before and that was about it. I was exhausted and barely able to communicate at that point. Also, I didn't want to block her table from other people who might buy the second volume of In the Sounds and the Sea, like I did.
[photo credit: Whit Spurgeon and The Comics Reporter]
Nate Powell: My interactions with Nate Powell are always the same. I stammer and stutter, starstruck and in wonder, while he is gracious and kind. This time wasn't much different, though we did have something a little bit closer to a normal conversation, talking about back-trouble and kids and how the show opens both too early and not early enough. I have no idea whether he remembers me or whether he's just a really nice guy who's accustomed to interacting with fans. In any case, I of course closed off our conversation by earnestly telling him once more how much I loooooove his work. We talked a bit about each of his works and I found out that while for awhile he felt most proud of Any Empire, he's recently been returning to a fondness for Swallow Me Whole. We talked about March: Book One and how while I loved March, I actually preferred the perspective offered in The Silence of Our Friends. He then let me know that he was considering March: Book Two the Empire Strikes Back of the March trilogy. He described it as, in terms I borrow from elsewhere, banana nutso crazy.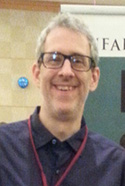 Stephen Vrattos (with Fanfare/Ponent Mon): I met Vrattos last year and he sold me on picking up a couple volumes of Taniguchi's Summit of the Gods, which was a bit of a feat because while I adore Taniguchi, I have nearly Zero interest in mountain climbing and actively decline to read or watch mountaineering stories. Summit turned out to be one of the best comics I've had the pleasure to get sucked into, so it was a pleasure to find I'd be a couple tables away from Fanfare/Ponent Mon this year. Vrattos is funny and sharp and has a delicious bite to his humour. He entertained my wife with humour and storytelling and I imagine they were both looking at me from time to time sadly shaking their heads at some foible or another.
Note: He was ashamed that I still haven't gotten my wife a wedding ring. After eight years of marriage, she still wears her sad, lonely engagement ring.
[photo credit: Whit Spurgeon and The Comics Reporter]
David C. Hopkins and Austin Wilson (Hideous Energy podcast): I met these fine young men last year briefly and we've continued to keep in touch throughout the year via Twitter. They host a lovely, irreverent, and honest podcast where they talk comics, state of the industry, and about things in their colons or wherever. As to their honesty, in their not-quite-arbitrary rating system, they'll give a book they liked and thought was pretty darned good a 6 out of 10. That's a bit rare and refreshing. Also, they suffer from a bit of a charming condition whereby their attention spans seem shattered like a funhouse mirror that got shattered. I think they may be field mice who are riding atop gargantuan meat things, like some fell hybrid of Ratatouille and Shadow of the Colossus. I think this might be why I enjoy them. Hopkins also letters books, like the latest Johnny Hiro book by Fred Chau. Wilson is a burgeoning comics writer and has some cool stuff in the pipe. Probably. They stopped by my table and then I saw them peeking in after the guy got married to comics44A guy whose name I would know if only I were more tuned into the indie comics scene got married after the Ignatz Awards. He married comics. He dressed in a white gown and wore a Mary Jane Watson wig. Now that I think about it, he may have actually been cosplaying MJ. Michael Deforge stood next to the groom, comics, and answered the vows on comics' behalf. After the ceremony was complete, the bride guy kissed Fantagraphics' Gary Groth, who presided over the ceremony. It was probably one of those Art Person things and so not really my scene. (neither Team Hopkins/Wilson nor Team Hahne/Hahne were actually present for the spectacle and it seems we both strategically arrived in the moments it concluded.) My wife mentioned that she thought Ben Hatke was at the show and Wilson said, "Well, yeah. He was standing just behind you like ten seconds ago. He had blue hair." Fortunately, I didn't chase Mr. Blue Hair down and tackle him and profess my love and force a second wedding,55I would never do this Mr. Hatke. Never. because it turned out that while Hatke was in attendance, he 1) did not have blue hair, and 2) looked nothing like Mr. Blue Hair (who was actually Dave Roman). Disaster averted by timidity once more. Three cheers for being obnoxiously reserved.
The New Faces
Tony Brandl and Andrea Rapp: I was paired at my table with Brandl. We didn't know anything about each other before set-up on Saturday morning. I don't know what the mechanism was that paired us but I felt our synergy was pretty perfect. It helps that both Brandl and Rapp are incredibly worthwhile people.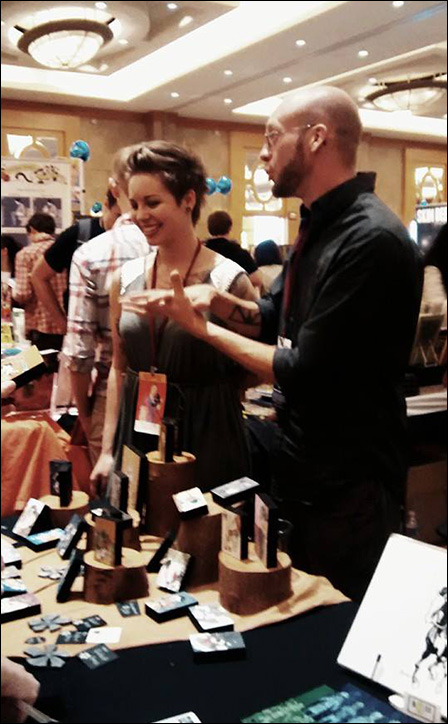 The best tablemates we could have possibly gotten.
Brandl and Rapp know each other from the Renaissance Faire circuit, where they both ply their individual wares. (Only Brandl was showing at SPX, Rapp was along for table support, which was pretty cool.) Brandl is a crafter, someone who works with his hands, building and shaping. This was his first time tabling at a comics-centric con and he wasn't sure how his work would be received. I'll discuss his work below.
Rapp is a seamstress and weaver and we unfortunately, due the nature of the show, were unable to see any of her work.
Katherine Wirick: I met Wirick online last year in an argument on the Hooded Utilitarian over the value of The Nao of Brown and whether Glyn Dillon gave short shrift to those who suffer from OCD. Emily Thomas wrote the original article, which obliquely called me out as a gushing supporter of the book (which I basically still am, it's lovely, please read it!), and Wirick joined the very polite and sturdy back-and-forth between Thomas and myself, taking a position opposite of me. At the end of the day, I found both of them lovely conversationalists (even as I find Dillon a lovely storyteller and artist) and a friendship grew between Wirick and myself. I reviewed her ambitious No One Is Safe last year. She was tabling an aisle away, from me but I made sure to visit a couple times because we had never met in real life and it was a treat to put a voice to her voice.
Gina Gagliano (of First Second): I've had some limited, friendly interaction with Gagliano over the past couple years. Gagliano is the First Second contact that I engage as part of my role as a critic here at Good Ok Bad. Any time I need information or anything with regard to First Second books, I get in touch with Gagliano. She's good people so far as our interactions go, and it was nice to finally meet her in person. Plus, she introduced me to Ben Hatke, which was a beautiful thing.
Ben Hatke: As the author of Zita the Spacegirl, Hatke has played an important role in my daughter's relationship to storytelling and reading. He means a lot to me for this reason. I didn't even know he'd be at SPX this year but as I was taking a break, I noticed a signing line in front of First Second's tables. It was Hatke's line. I quickly jumped in at the end, picked up a copy of Julia's House for Lost Creatures (his new children's book), and asked him to sign it for my daughter. I wasn't going to pester him with who I was or what he meant to me, but Gina Gagliano leaned over and introduced me. (!!!) Hatke was familiar with the site and said how much he liked it, which is always nice to hear.
Evan Dahm: I met Dahm like thirty minutes before the show closed on Sunday, when everyone was basically drained and dying and fritzed beyond imagining. I didn't exactly have the best interaction with him and it left a bit of a sour taste, but I'm just chalking it up to the fact that nobody was healthy or sane at that hour of the day. I ending up liking the book I got from him, so that made up a bit for the in-person experience too.
Johanna Draper Carlson: I'd followed Carlson for years, popping in to her review site, Comics Worth Reading, whenever I wanted to get a taste for what books were newly available. We've interacted maybe twenty-to-fifty times over the last decade, but she didn't remember me. Which is perfectly acceptable since our interactions were mostly confined to me commenting on one of her reviews and her responding back. Just little one-offs here and there. And by the time I started Good Ok Bad, I didn't really have enough time to keep up with other review sites. Still, it was fun to meet her and attend a panel she hosted. I gave her one of my books and she chastised me for not having my website or email displayed anywhere on the book. (I didn't have sethhahne.com when the book's art was finished, so that's why ... *sheepish*)
Kristin Haas Curtis: Curits flew from Switzerland to be at SPX. I mean, sort of. She was here for a month prior to SPX, but I like to think that meeting me was the climax to her vacation. Because who wouldn't like to think that. She popped in on Sunday afternoon on a whirlwind tour of tables of creators she had been looking forward to meeting (and I was one of those!). She brought her own minis and handfuls of chocolates from her native land to which she emigrated with her husband years earlier. It was a pleasure to meet another person who I'd made friends with via Twitter.
Frank Santoro: I didn't get to meet Santoro but my wife did. They talked for a while about Studio Ghibli, children, teaching, and what my sweet diminutive wife was doing in a den of thieves and depravity like SPX.
Glynnis Fawkes: Michelle also talked awhile with Glynnis Fawkes, purveyor of fine achaeological and classical comics.
Nick Abadzis, who I'd been looking forward to meeting, was actually prevented from attendance by Circumstance. I was sad, but I have to keep reminding myself that SPX is not about me. Not primarily at any rate.
The Books
I'll be presenting the books alphabetically but if you'd like to skip to a particular work, just click on the cover on the below image.
aama, vol 1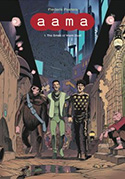 by Frederik Peeters
(Self Made Hero)
Preview
After reading and loving Peeters' work on Sandcastle (also published by Self Made Hero), I'd had my eye on aama for a while. Still, this was one of those silly impulse buys. I could have bought this any day of the week. I didn't need to pick it up at a con. It's on Amazon. Probably even for less than I paid at the Self Made Hero table. That's twenty bucks I could have used to grab a handful of minis, the photocopied stuff of dreams.
So yeah, I felt a bit dirty reading this on the plane on my way back across the country. Or at least I did until page two where I promptly forgot everything except the story Peeters begins unveiling. Sadly, this is only amma, vol 1. Peeter's leaves us hanging. Which is nice (I guess) because there's something to look forward to, but man… I am becoming increasingly impatient with getting stories in installments. I'm just not built for delayed gratification.
I'm basically a five-year-old. Who thinks Frederik Peeters is a massive illustrating talent. Glyn Dillon turned me on to Peeters. Think about that a minute. You've seen Dillon's artwork. You've read The Nao of Brown. And now think about what it means when Glyn Dillon says, Man, you should really be checking out Frederik Peeters. It means things. Important things. And I'll reiterate in case you missed it. You should really be checking out Frederik Peeters.
Bad Dad Agamemnon

Fawkes presents a slight, 10-page retelling of the mournful fate of Iphigenia daughter of Agamemnon and Klytemnestra before the siege of Troy, when the Greeks were locked in fog and bad weather on the island of Aulis, feeling cursed and dejected. It's fascinating comparing Fawkes version and Eric Shanower's in Age of Bronze. Shanower spends hundreds of pages and overdraws everything and takes everything in deadly serious tone. Fawkes doesn't really have the time or space for pathos and so offers a glib kind of comedic tragedy that leaves the reader thinking Man You Crazy Ancients while Shanower makes the reader inhabit the horrifying lives of his characters. There's a place for both stories and I was glad my wife picked this up.
Blast Furnace Funnies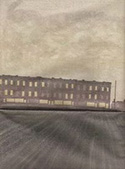 Frank Santoro gave this to my wife after they had spoken for a while. It's rather beautiful. The colours, all oranges and yellows and purples and pinks, shouldn't really work—but they really really do. The large newspaper comic functions as a kind of backhanded love letter to the city of Pittsburg, the kind of note that would be impossible to carve out through any means apart from nostalgia. I'd like to imagine I could do something like this for Laguna Beach, but honestly I probably couldn't.
Broxo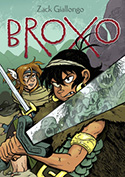 by Zack Giallongo
First Second
My review
I reviewed this a while back. It's the beginning of a wonderful series that may be forever stalled at a single volume. The story stands alone and while the conclusion hints at further adventures, it's not necessary in order to enjoy the story. It's just kind of something you want more of. I recommend this to parents of seven-year-olds all the time. A reader in Alabama bought it for his son for Christmas and the day after emailed me asking what the second volume was called. They both needed more.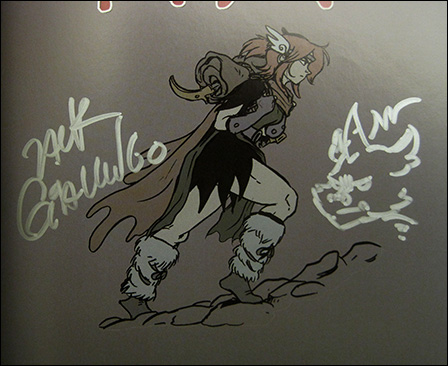 The reason why I bought a copy was that I had originally read a tattered library copy (the glamourous life of a comics critic is built on the foundation of free books provided by interlibrary loan). Last year at SPX, I wanted to rectify the error of not owning this myself, so I stopped by Giallongo's table on the second day of the Expo. I had dawdled too long and he was sold out. So this year I made certain this wouldn't happen again and bought from Giallongo first thing as the expo opened. And now I am happy.
Or at least as happy as I can be without a continuation of the adventure clenched in my grubby mitts.
Celeste
by I.N.J. Culbard
Self Made Hero
Preview pages
Another silly purchase (as I could easily grab this anytime from Amazon with Prime shipping), but I'm not going to complain. (I'll leave that to the young hungry indie creators whose work I could have gotten instead!) After all, I love Culbard. I first noticed him on the three Sherlock Holmes books of his I'd read. Then his Lovecraft work. And now his first work (as I understand it) as writer and artist.
Celeste is a lovely, baffling work. It makes Cameron Stewart's Sin Titulo seem to have the interpretive challenge of an Aesop's Fable. With the close of the final pages, I was, like, "Hey uhhhhhhhhm. Hm. Well. Interesting…" I may review it after subsequent reads and more effort at comprehension. Whatever the end result of my comprehension test here though, I can at least say that I liked it as I experienced it.
Also, I may have been hampered by the fact that I was awkwardly reading the book on the plane, a book that contains page after page of a nude female protagonist. I felt like I was the principal figure in those cautionary tales about the depravity of Japan I'd heard growing up: "Men in Japan read nudie comics right there on the train where everyone can see! You can't get away from it!" (Note: a handful of authority figures in my highschool days worked to discourage me from my interest in visiting Japan.)
Center for Cartoon Studies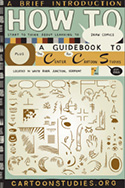 Applied Cartooning Manifesto by James Sturm
How to Start Thinking about Comics by Kevin Huizenga
CCS website
The Center for Cartoon Studies put together a handful of comics about their school and mission. They're well-done and attractive (one illustrated by Kevin Huizenga) and go a long way toward showing that comics are great for communication beyond the narrative arts.
Golden Rules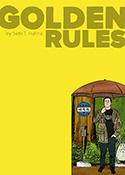 It almost feels cheap mentioning the book here (because I'm the author), but Golden Rules is the entire reason I had a table at SPX. For those unaware, it's a book about pee. More than that, really, but at root, at lowest common denominator, it's about pee.
It was actually a hard book to make a pitch for. Essentially, I'd say "...and this is a comic about how men have an unfortunate tendency to pee on the toilet seat and how maybe they should cut it out. It's a little bit funny, a little bit gross, and a little bit more funny. And lightly philosophical!" Then I'd hand them the book so they could take a look. Basically everyone laughed, agreeing that it was a disgusting habit. And everyone had stories. Women would regale me with the horrors of the Women's Room due the unfortunate practice of "hovering." Men would say, "Omigosh, this is so on target. But I always clean the seat." Because men are also apparently liars. Any random visit to the men's room at SPX would prove that handily.
90% of my sales of Golden Rules was to women. They all had someone in mind to gift the book to. Men all laughed but felt the book was not a reminder they needed.
Gordon Is Just a Friend
vols 1 and 2

by Zack Giallongo
Read #1
Read #2
I had read the first chapter of Giallongo's lonely werewolf story online when everyone had linked it on Twitter. It was good and funny and astute. And when I saw it was a physical product *and* had a second chapter, I knew I would need to own it. (I'm particularly bad at caring about comics that I have access to in digital form.)
It's a good story and I recommend it and I hope that Giallongo will continue to explore Gordon's development.
In the Sounds and Seas, vol 2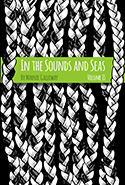 by Marnie Galloway
Monkey Rope Press
Honestly, and entirely without right, I was slightly disappointed in vol 2 of this series. But that's kind of what Galloway gets for putting one of the most throroughly incredible scenes in all comics in the first half of volume 1. Really, the rest of this series could be Top Notch and it would still be disappointing.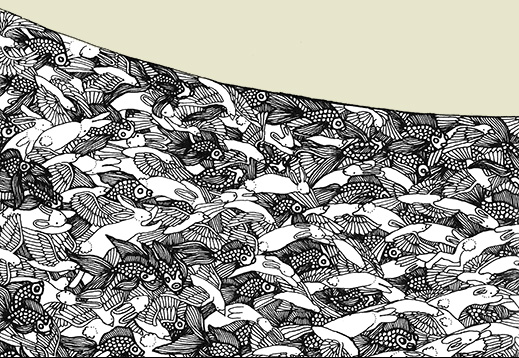 Still, for a taste of how lovely Marnie Galloway's work is, consider this anecdote. I came home from work the Wednesday after SPX to find my dad waiting for me (my parents are visiting from where they live in Romania). He was holding vol 2, the one I just described as a disappointment, and stammering out that he was shocked and amazed by the art in her book. It blew him away and made him want to start doing art for fun again. (You should have seen his look when I told him there was a volume 1 and that I had it and Hold on let me get it for you dad.)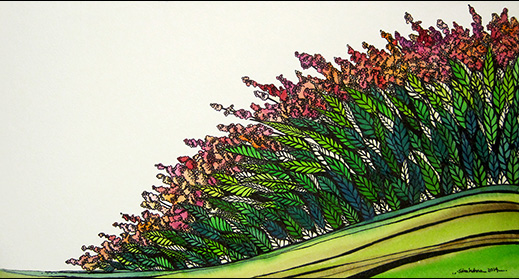 This is the first piece he did after reading In The Sounds and Seas.
Julia's House for Lost Creatures

I had not planned to buy Julia's House at SPX. I had planned to pick it up from Amazon nearer to Christmas. But as related earlier, I saw a signing line for Ben Hatke and stepped into it and found I needed something for him to sign that was more lasting than my cleavage. So I bought it thirty seconds before handing it to him. My daughter was jaw-dropped when I returned to California with that particular piece of booty.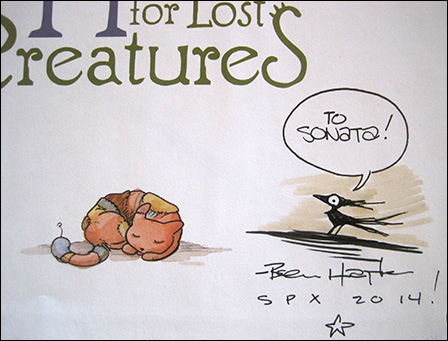 Julia's House is a children's picture book and so is understandably much lighter in story content than, say, Zita the Space Girl. It's a lovely book all the same and I'm glad to have it in our stable. Along with some of our favourite kids' books, there is a ton to look at in every page. Lots of nooks, lots of crannies, and lots to inhabit each.
Keepsakes/Rift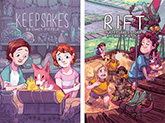 by Carey Pietsch
Read Keepsakes
Read Rift
I read Keepsakes, Carey Pietsch's story about kids in an old house, a corgi, and a fire gem, online a couple months ago and found it a charming new direction for the author of The Snapdragon Queen. When I heard she'd have a second book in the same world available at SPX, I was pleased. Rift is a prequel, taking place when the grown-ups in the first story were themselves children. They're both a lot of fun, and I hope to see more from the world.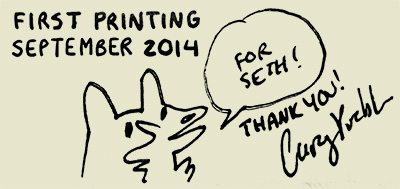 The Kenneth Fly Maneuver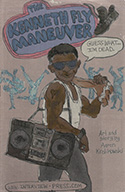 by Aaron Krolikowski
Interview-Press
This was my only trade of the show. Krolikowski (or one of his many impersonators) stopped by the booth, took a look at A Rainy Day Love Song and asked if I'd like to trade minis. I was happy to and so I received his mini about a since-deceased breaker named Kenneth. I'm unclear whether this is biography or historical fiction or period piece. In any case, it's a peek into a world that I don't inhabit (despite taking breakdancing lessons in 4th grade in 1983). I liked it but it halts without really getting into Kenneth's story and doesn't say anything like To Be Continued or have any indication that its the first issue of a continuing series.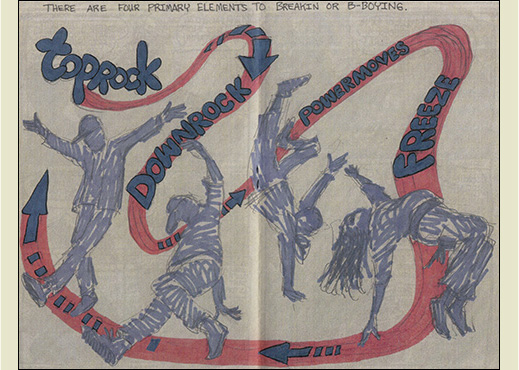 Kristen Curtis' Diary Comics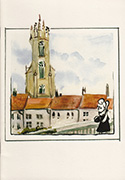 Curtis is a friend from the internet. I don't even know when or why we started following each other but I'm glad it happened. Her comics are autobiographical, though not in that mournful sense common to indie creations. In the present collection, each page is a standalone comic discussing a theme, whether dining in Switzerland or children or whatever. It's all funny or amusing or eduactional. Recommended.
Moomin and the Golden Tail

by Tove Jannson
This is one of the few I've yet to read. My kids already love it though, and it's nice for them to have a visual complement to the several Moomin novels they already own.
Must Ache

My wife returned to our room at the hotel with Must Ache, which she picked up for free on her travels around the expo. It, being a tiny accordion-fold strip, is the perfect length for its joke—about a man and his prodigal mustache. I need to find out who Luke Howard is and what else he's done.
Nervenkrank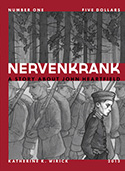 by Katherine Wirick
Buy it from her store
I reviewed the fantastically composed and beautifully personal No One Is Safe last year. It's Katherine Wirick's meditation on the Kent State shootings. This year she had a couple books of sketches of baseball pitchers (her work is lovely and I highly recommend it). If I would have been thinking, I'd have picked up a copy as a gift for my brother (who loves the sport). However, I am thoughtless and instead picked up something catering more to my own interests. Nervenkrank #1 is a war narrative, though I doubt the entire series will be—it's shaping up to be a biographical sketch of John Heartfield, the founder of Dadaism.
Niagara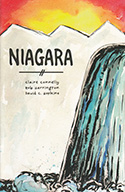 by Claire Connelly, Rob Harrington, and David C. Hopkins
I got this from David C. Hopkins (of Hideous Energy), who lettered the project. It's a nice little book about the first Niagara-over-a-barrel survivor, a woman named Annie Edson Taylor who in months prior had lost both her husband and infant child in a traffic accident. Connelly had a table at SPX but I didn't seek her out because I didn't know who she was until seeing her name at the top of Niagara's credits after I got home.

Pioneers

by Braden Lamb
Lamb's Pioneers is a cool little book about a guy who figures out how to use something in the neighbourhood of transcendental meditation to explore new worlds. He shares his insight and we have some disciples who get some of it right but kind of make a hash of things along the way. And now we know how Jesus felt.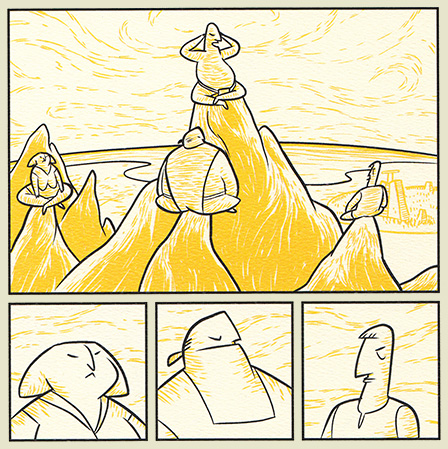 Pompeii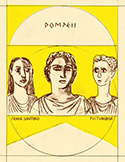 by Frank Santoro
Get it from Amazon
Frank Santoro graciously handed my wife a copy of this, which is great because her job is about 35% concerned with teaching kids to accept, acclimate, and accolade the classical period. All the same, I don't think she'll be using Pompeii in her classroom. Santoro's created a fun little interpersonal drama that propels itself across the waning moments of the city while Vesuvias rumbles and trumbles along. Principally concerned with Marcus, the artist's assistant to one of the city's great painters, we follow the young man as he attempts to negotiate a relationship with his girlfriend who wants to move back home to start a family while he also tries to prevent the painter's wife from coming to see that her husband is having an affair with a local princess (from whom the painter might find patronage).
Postal Constituent
by Caitlin Cass
My review of Great Moments
As excited as I was to see Caitlin Cass again, thanks to my subscription and prior purchaes, she really didn't have anything at her table that was new to me save for a small, bookmark-sized print. No matter, I'll still treasure it until losing it in the depths of some tome I totally completely intend to finish but maybe after I reread Cross Game again.
Powdered Milk #14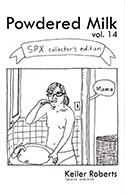 by Keilor Roberts
This was an Ignatz nominee and I'm hesitant to guess why. That probably sounds worse than I intend. It was fair, I guess. Having small children, I could related to the experiences described. It just didn't really strike me as something more special than some of the other wonderful things I'd seen. Maybe I just got the wrong issue. Or maybe I'm the wrong person.
A Rainy Day Love Song
by Seth T. Hahne
Read it!
This was the other book I brought, the one that was a much easier sell. It's a sweet sweet love story and everyone pretty much ends it and says, "Aww." Which is good because that was kind of its design.
Last Valentine's Day (2014), I got off work and had three hours at a Starbucks before I'd see my wife and kids. I knew I wanted to do something for them but I didn't know what. Before I left for work, I prepared a blank 10-page booklet at 4" x 4". I arrived at the Starbucks, sat down, and created A Rainy Day Love Song. I finished in three hours (with about five minutes to spare). My family loved it, and a few days later I scanned it and posted it on Facebook. There was enough positive feedback that I decided to redraw the pages at a higher quality and print it for SPX 2014. And here we are.
Rice Boy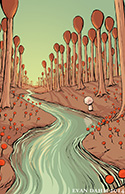 I had never heard of Rice Boy but apparently other people have, and the book holds a fair level of popularity. I was skeptical, as the protagonist has even fewer features than Jeff Smith's Fone Bone, but creator Evan Dahm actually drew me into his story in relatively good measure. At one-quarter through the book, I was intrigued. By one-half, I wanted to see it through to the end. By three-quarters, I was attached to several of the characters. I might never have been brimming with excitement but I was at least kept engaged and was satisfied with how Dahm chose to wrap up the storyline. I'll be checking out Dahm's other work as the opportunity is afforded me.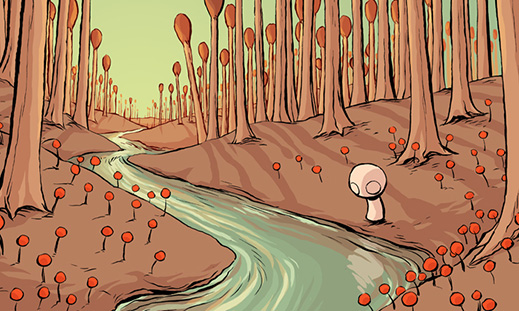 Runner Runner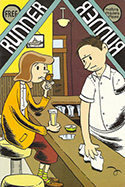 by Megan Kelso, Sam Alden, etc. ed. Greg Means
I don't know why this was free. It was a rad little anthology with bookending contributions from Megan Kelso (whom I hadn't read since The Squirrel Mother) and Sam Alden. Basically every story is either good or pretty great. There aren't any sour notes.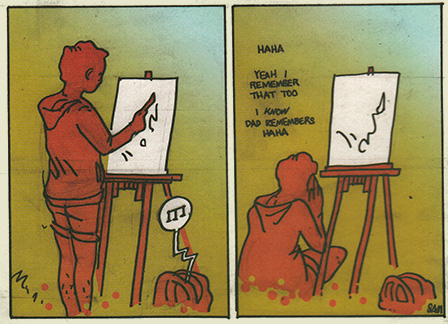 Sand Salamander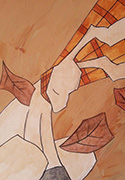 by Tony Brandl
The Rabbit Hero
Tony Brandl was my tablemate (along with his able assistant, the buoyant seamstress Andrea Rapp) and he turned out to be friendly, interesting, and talented. I was a little bit nervous before arriving at my table on Saturday, wondering what kind of artist I would be dividing my table with. After all, strangers can be a terrifying prospect. Basically a blind date set up by someone you don't know who also doesn't know your date. Though I couldn't know beforehand, I needn't have been worried. The lords of the SPX set me up with awesome people.
(It could have been much worse. A creator across the aisle from us sat through the entire expo with a forlorn look of gloom. I don't know if he was truly as down as he looked, but he looked like life was just one straw too many on the cameleous back of his spirits.)
Brandl is the creator of the Rabbit Hero, an expansive non-linear world-story featuring zoomorphs whose story is chiefly devised by readers rather than by Brandl himself. While he did provide the option of buying a single issue of a book that would broadly introduce a handful of his characters, Brandl's chief product is perhaps more ambitious.
While my side of the table was probably rather typical, a smattering of minicomics and art prints, Brandl's featured a bunch of black wooden blocks. Each block (intended to be handled—there's text on the back of each!) displayed on their foremost side a hand-drawn and painted (coffee and Prismacolor) character from Brandl's mythos. Each block is intended as a single panel in a tremendous evolved story. No purchaser will own the entire story—or really, anything more than a fraction of that story.
Brandl's idea is explored through a kind of homily he offers: When thinking about movies, he notices that after a friend describes what a movie is about, the movie that he experiences in his imagination is always more wild and satisfying than the actual film once he gets around to seeing it. He wanted to capture that feeling for others, so he sells what amounts to prompts, with the hope that his customers' concocted stories for his characters will be better and more satisfying to them than anything he might have developed himself.
Sitting on the side of the table where my vantage was exclusively the black backsides of his blocks, I did not get to see many of his creations, but early on I attached myself to the "Sand Salamander." When the show was winding down, I saw my way was clear. I had to have it. And so I did. And it is the best little guy. And it has a story too. Maybe I'll tell you when you're older.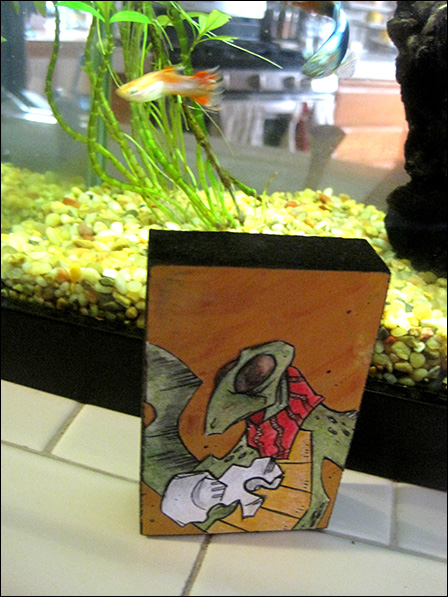 Stratford Zoo: Macbeth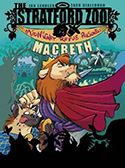 by Ian Lendler and Zack Giallongo
First Second
Stratford Zoo is an interesting conceit. By bare description, I didn't imagine it'd work as well as it does. At night, after the zoo closes, the animals escape their bonds (Goodnight Gorilla style), and slip into character. Animals perform the works of Shakespeare for the other animals. It's raucous and funny and much more engaging than you'd think. Man, I'm saying engaging a lot in this. I've never been good with capsule descriptions of things. And this is sooo long. *sigh* Only four more books to talk about after this.
In any case, this volume concerns Macbeth. Obviously. The next will be Romeo and Juliet. I'll probably pick it up too. Even though what I really want is more Broxo.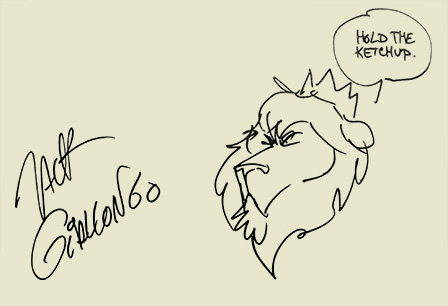 Summit of the Gods, vol 5
by Baku Yumemakura and Jirô Taniguchi
< href="http://www.ponentmon.com/comic-books-english/taniguchi/page-1.html">Fanfare/Ponent Mon
My review
You guys, Stephen Robson, the guy who runs Fanfare/Ponent Mon is rad. In a 1980s BMX-movie sense. He does amazing things. I mean besides publishing Jiro Taniguchi and Frederic Boilet for the unwashed English-speaking masses. Check this out.
Last year, I talked with Other Stephen (Vrattos) at Fanfare's table at SPX and he convinced me to give Summit of the Gods a shot, even though I don't care for mountain climbing. Vrattos dangled the carrot that the fifth and final volume might be released in time for SPX 2014. So I said Sure. Fine. What the heck. I already knew I loved Taniguchi's work so at worst I'd be picking up two volumes of awful story with the best art you've ever seen.
By the time my plane landed back in California, I was dying for volume 3. Summit of the Gods is one of the best comics I've ever read. It's edge-of-the-seat and gorgeous. It killed me that I'd have to wait a full year 'til SPX 2014 to see the story reach its conclusion. But I waited because what else could I do?
So a week before the Expo, I emailed Robson to check and see if vol 5 would indeed be available at the show. He wrote back apologizing, saying he was sorry but that it wouldn't be quite ready yet and that it was at the printers and that it would debut later in the year. I was devastated. It was a hard blow. Imagine you had been waiting a year for Harry Potter vol 7 and you knew it was going to be released on July 17th and your whole year felt like it was leading up to that moment. And then. On July 12th, you got an email letting you know that the book wouldn't be available, not for some indeterminate amount of time, that it might debut at a tradeshow that you didn't have access to and then who knows when you'd be able to order it from Amazon. Imagine your sadness you great big Harry Potter fan you. That was me.
Fanfare's table was very close to mine. There was me, then there was Zack Giallongo and Braden Lamb (sharing a table), then there was Fanfare/Ponent Mon. I was happy to be luxuriating in such close proximity to so much Taniguchi, but at the same time, I was still a bit down that I didn't know how long it would be 'til I got my hands on Summit's climax.
About thirty minutes into the show, Other Stephen leaned back and asked, "Which one of you is Seth?" I came over and he brought out a small grey book: "Other Stephen told me to show this to you. It's a printer's proof." Volume 5. With a thoroughly desaturated cover. I flipped through, but only through the first quarter. I didn't want to spoil it. A beautiful book. I handed it back. Other Stephen let me know I could have it for $20, the price of any other of the vols.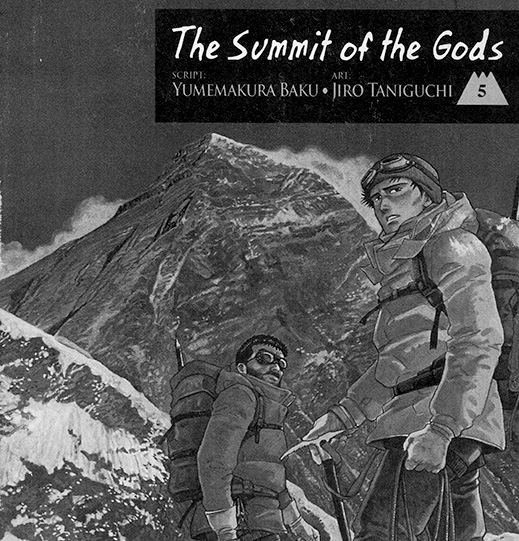 It was mine. I read it Saturday night before bed. Given the choice between attending the Ignatz Awards (and prom after party) and reading the finale to Summit of the Gods, I proved myself a true fan of the medium and of the creative spark and holed up in my hotel room (in the bathtub! I'm no philistine) and devoured the book. I knew what I was doing and am still certain I made the right choice. This is basically comics as good as comics gets.
The Undertaking of Lily Chen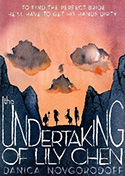 by Danica Novgorodoff
First Second
Somehow I missed it when The Undertaking came out earlier this year. I had intended to get it but just, I dunno, forgot? This was another I could have of course picked up easily on Amazon, but I was in no mood to make financially sensible decisions.
I'm still not exactly certain what I think of The Undertaking. There were things I liked and things that played to tastes that weren't mine. I'm still deciding—and trying not to be led by my biases. We'll see.
Vögelein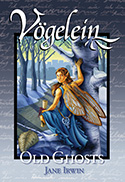 by Jane Irwin
Vögelein's site
Michelle picked up this free preview sampler for Irwin's series. The art wasn't so much my thing (not the focus on a faery, even a clockwork one), but the story had an interesting enough hook. Without reading further, I can't tell if the story is going to be fantasy, cogpunk, or fantasy-disguised-as-cogpunk. I may check it out at some point.
The Walking Man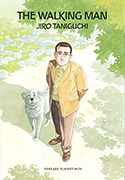 by Jirô Taniguchi
Fanfare/Ponent Mon
My review
I have been waiting for The Walking Man to get another printing for years. I picked up the original release in America years ago in 2003. I loved the book and showed it to my dad and he was enraptured. The book is quiet and thoughtful and mostly just follows some middle-aged guy as he wanders around the city he and his wife have just moved to. I think my dad felt a kind of observers' kinship with the protagonist, himself being an expat in a land whose language he has never been able to acquire.
So I've wanted to grab him a copy for birthdays and Christmasses. For years. Used copies have been going for over $100 for ages now. Yet this year Fanfare is releasing a new, hardbound edition.
My parents were arriving four days later for a visit, so my choice was clear. The Walking Man: acquired.
Written in the Bones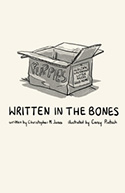 by Christopher M. Jones and Carey Pietsch
Read it!
Somehow, in the days before SPX, I found (probably through Twitter) Christopher M. Jones and Carey Pietsch's small comic about a dog father mourning the loss of one of his sons and wondering at the apparent ambivalence of his owners. It's a solid story—great, really—and it shows off both creators' talents well. Visually and tonally, it's different from anything else I've seen from Pietsch.

I was excited to see she had copies available at SPX and quickly secured one. You can read it for yourself here.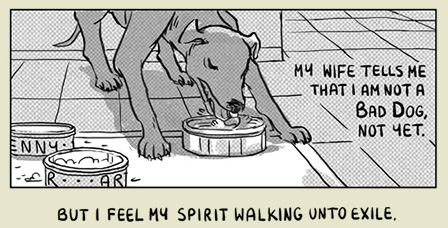 You Lost Me at Hello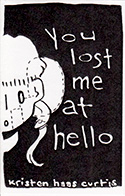 Curtis put together a fun mini to hand out, focusing on the arcane dance of lips and cheeks that make up the social kiss of greeting. And how awkward it can be for Americans.
My parents, visiting Americans from their home in Romania, corroborated. My dad says he has just resigned himself to aiming at center-of-face and letting the natives choose the method of their demise (or greeting).
---
Summary
I'm not sure what fate will have in store for me in terms of SPX 2015. All told, it's probably about a $2000 trip for us. Tabling was fun and I was able to make about $300, which was mostly eaten back up in the costs associated with running a table and printing, packaging, and shipping product, etc. I would say that it's pretty hard to compete for dollars against 700 other creators, especially as an unknown. (People may have been familiar with Good Ok Bad, but very few are aware of The Art of Seth T. Hahne, at least at this stage.)
I definitely had more fun tabling than I did coming as a regular citizen. I felt more a part of the whole big combustible mess. And I felt like I was there legitimately, rather than as just a voyeur. On the other hand, I came away with much more true indie product when I wasn't tabling. I had time to investigate tables and talk to people I didn't know. There are benefits and deficits to each option. Not attending would be sad, but $2000 really *is* a lot of money.
Maybe not to you idle rich out there, but basically it feels insane to me. Two round-trip plane tickets, three nights of hotels, four days of airport parking, eating out constantly. I want so badly to go again. The vibrancy of the creative spirit there is amazing.
Good Ok Bad features reviews of comics, graphic novels, manga, et cetera using a rare and auspicious three-star rating system. Point systems are notoriously fiddly, so here it's been pared down to three simple possibilities:
3 Stars = Good
2 Stars = Ok
1 Star = Bad
I am Seth T. Hahne and these are my reviews.

Review copy submission may be facilitated via the Contact page.
Browse Reviews By
Other Features
Popular Sections:
Best Books of the Year:
Other Features:
Connect
Comics by Seth T. Hahne