The Best 75 Comics by Female Creators
Created by: Katherine Wirick, Rutu Modan
Published by:
Pages:
Genre: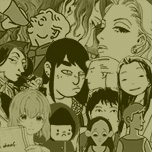 This list originates from a discussion I had with friends on Facebook. I came up with an off-the-top-of-my-head list of ten essential graphic novels to get a new reader invested in the dynamic range of the medium. About ten seconds later, I realized that all those books were created primarily by men. Black men, white men, Asian men—but still men. It was a good list and I stand by it, whatever it included. But that got me thinking about all the worthwhile and great comics created by women. And so I thought I'd celebrate those by sharing my Top 75. (I'll probably expand this to 100 when I have more time.)
For the sake of whatever, I've hinged eligibility on two options. 1) Primary writing credit belongs to a woman, or 2) Primary art credit belongs to a woman. Which means I won't be considering colorists, letterers, assistants, or editors. This is not to downplay their value to the final product. (Example: Walt Simonson's Thor is distinctly elevated by Christine Scheele's colours on the book, most noticeble in the recent non-Scheele recolouring—but we still consider it Walt Simonson's Thor.) This is partially a factor of the primary direction of a book being governed by its lead writer and lead artist, and partially due to the fact that if I had to research all the female inkers, colourists, letterers, assistants, and editors, I would never actually get around to making a list. (Seriously, you get into Japanese comics and researching assistants on books and you're neck-deep in an impossible swamp.)
The other thing to remember is that this list can only include books that I've read. Did I include Gabrielle Bell's The Voyeurs or Lynda Barry's One Hundred Demons? I did not because I've yet to read them. Additionally, if you don't see a favourite book listed, either I didn't read it or I have different tastes from you
While it's fine if this makes you mad, maybe instead take this as an opportunity to celebrate there being 75 other great books out there in addition to your personal favourite. That's really a lovely position to be in!
Good Ok Bad features reviews of comics, graphic novels, manga, et cetera using a rare and auspicious three-star rating system. Point systems are notoriously fiddly, so here it's been pared down to three simple possibilities:
3 Stars = Good
2 Stars = Ok
1 Star = Bad
I am Seth T. Hahne and these are my reviews.
Review copy submission may be facilitated via the Contact page.
Browse Reviews By
Other Features
Popular Sections:
Best Books of the Year:
Other Features:
Publisher Spotlights:
Connect
Comics by Seth T. Hahne