Hopeless Savages
Created by: Jen Van Meter
ISBN: 1934964484 (Amazon)
Pages: 391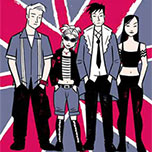 For this year's Band Books Week, I thought I'd revisit one of my favourite comic series, one that charts the lives of the nuclear family of former punk all-stars Dirk Hopeless and Nikki Savage. Hopeless Savages is delightfully rollicking and more indie than it is punk.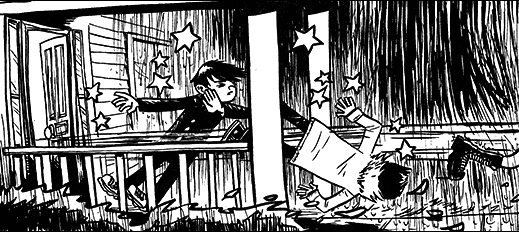 Writer Jen Van Meter teams up with artists such as Christine Norrie, Bryan Lee O'Malley, Ross Campbell, and Chynna Clugston to deliver three very different volumes that exist as easily digestible stand-alone stories. Approaching them sequentially does enrich the reader's appreciation for Van Meter's world, but it isn't entirely necessary and I will sometimes loan out volume 2 to friends whether they've read the first or not.
Since this is like a special holiday week—what with it being Band Books Week11Look. I know it's banned books and not books about bands. I may play at it, but I'm not entirely thick. Really, I just needed an excuse to write about Hopeless Savages and I have a friend who loves puns more than he loves breathing. So here we all are then. and all—I'm going to approach this review a bit differently and tackle each volume in a quick-paced mini-review sort of fashion.
What ho.
Hopeless Savages
Volume 1, simply titled Hopeless Savages, is the weakest of the three. It's not bad by any stretch, but it serves mostly to introduce the family—by way of the kidnapping of the Hopeless-Savage parents. Dirk and Nikki are grown-up-and-settled-down former punk rock legends. Or maybe they're current legends and former stars. Something like that. In any case, they've been stolen and Van Meter uses their theft to introduce and spend time with the four Hopeless-Savage offspring (from youngest to oldest), Skank Zero22She goes by Zero. Or by Zed or Zee or Skankabelle. And talks in a smattering of fabricoated words that convey their swoo through sound and context rather than through any squalling relation to the English language., Twitch Strummer, Arsenal Fierce, and Rat Bastard (all their real names!).

It's an amusing cast, but with the focus on 1) the kidnapping and 2) finding the prodigal Rat (he betrayed the family and went corporate a decade earlier), we don't get enough time with individual members to allow their personalities to shimmer. It's a fine diversion, but nothing spectacular.33Though I will admit to enjoying Van Meter's framing device in which she allows Zero to narrate through subterranean-homesick-blues‒style placards. We'll leave spectacular for…
Hopeless Savages: Ground Zero
Volume 2 is one of my comics heroes. A book that gets it and gets it done. Ground Zero, drawn principally by O'Malley in his pre-Pilgrim days, is a love story and one of the best I've read in comics form. It's also perhaps the most frisky that Van Meter gets with her narrative order, hopping back and forth and in and out of sequence, keeping things always lively, tense, and on the go.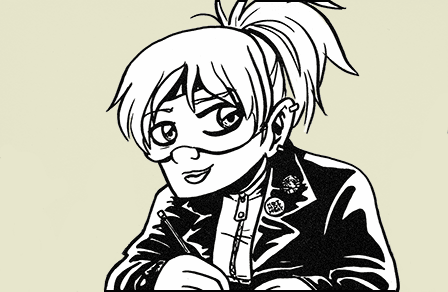 Skank Zero = the hooskiest.
Ground Zero features most prominently Zero, who is introduced in the volume at a hearing before her school's triumvirate to defend herself against the charge of a recent expulsion-level catastrophe at a school assembly. The title refers, at the least, to both the fact of this explosive event and the more literal (though punny) fact that Zero spends the entire volume truly and deeply grounded.
The reason for all of this, it turns out, is a boy (named for Ginger Baker!). Several characters remark on how OF COURSE IT'S ABOUT A BOY and how cliche and obvious that all is. Van Meter basically says "Screw that noise. I'm writing this thing about a boy and it's going to be awesome and it will make you wish you had your own story about a boy, so shut up forever."44And in a supporting story that is also about a boy and runs parallel to Zero's, Van Meter gives us a touching bit of insight into and resolution to Twitch's own story. It's well done and plays well against Zero's heart and heartbreak. And she does—she does write an awesome story about a boy, about a girl, and about finding out that you're in love and that love can be this awesome, dangerous, rewarding beast of an abstract thing.
Ground Zero makes me fall in love with love.55Plus, O'Malley draws Zero wearing the hooskiest clothes and how can you not love such a book. Actually, I think I may prefer his work on Ground Zero to either Lost at Sea or Scott Pilgrim, both of which I enjoy inordinately.
Too Much Hopeless Savages
After volume 2, I was excited to maybe get more of Zero and Ginger—because I know it would be incredible. Instead, Van Meter aims her camera more squarely at Arsenal. I was disappointed at first but Van Meter delivers a solid adventure.
Where volume 1 plays as an introductory comic romp and volume 2 turns in a very very sweet romance, Too Much Hopeless Savages spins out an international espionage thriller with comic leanings. Arsenal and Twitch are visiting Hong Kong with their boyfriends (to visit family and so that Arsenal might compete in a martial arts tourney against on old antagonist). In typical silly fashion a Russian sneaky type, knowing that customs is on to him, slips a package into Arsenal's luggage—thus beginning a series of bumbling interception attempts involving the Russians, a couple British spies (playing off Greg Rucka's Queen & Country characters66Rucka is Van Meter's husband, so I presume it's alright.), the Hong Kong authorities, and eventually the entire Hopeless-Savage clan.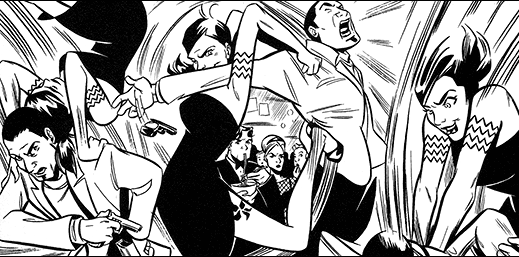 Because there are so many characters running in and out of frame, there isn't much (or enough) time spent with any one character and we get something of a similar problem to what hinders volume 1. It's not quite as bad because Van Meter does lean toward making this a story about Arsenal and so nearly all the flashbacks concern her, giving the reader at least one anchor in the tumult. Still, it's a fine volume and the focus missing from volume 1 isn't quite as necessary here because most of the characters are familiar by now.
If there is one unfortunate issue that slightly mars the book, it's the change in artist for the final chapter (of four). Ross Campbell (of Wet Moon and Shadow Eyes) makes his published-comics debut in Too Much Hopeless Savages, drawing the flashbacks for each issue. He does a wonderful job and plays a great counterpoint to Christine Norrie's beautiful lines. For reasons unknown to me (as a mere consumer of the work), Norrie falls off the book with the third chapter and Campbell picks up for the entirety of the fourth. It's not a gentle transition, as Campbell's style is very distinct from Norrie's; and while Campbell's art might have been fine if expected, the jarring nature of the transition77The jarring nature of the transition as well as the fact that he may not have been quite ready to draw this type of story. He's not here able to capitalize on any of the things that made him such a delightful artist in that era of his career. leaves a sour taste that lingers over the volume's conclusion.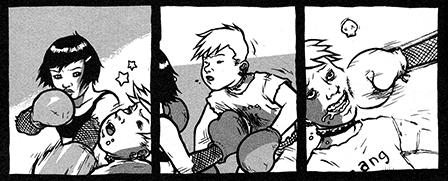 Some Final Thoughts
Over the course of the series, Van Meter makes marked use of flashback. Every chapter contains a several-page flashback (drawn by a secondary artist so that it's easily discernible from the main story). These flashbacks not only embellish the current storyline, giving motive to otherwise unexplainable actions, but they serve to give the series a grounding in history. It's one thing for us to hear that Nikki Savage used to be a wild thing on stage but another to actually see what she was like back then. It's one thing to know that Rat left the family because of a girl but another to see it play out. These bits and pieces lend credibility to the work. Kind of like how Tolkien's inclusion of songs and legends helps the realization of his LOTR world.
One of the recurrent themes of Hopeless Savages is family and its essentiality. With the exception of Zero (who is, I believe, a junior in high school), all of Dirk and Nikki's children are grown and leading their own lives (and generally pretty successfully). Dirk and Nikki are on the verge of being empty-nesters. But far from being on the verge of a certain lonely liberation, their family is still very close and they spend more time together than many families that share a single roof. For all of the Hopeless-Savage's anarchic roots, the governance of valuing family rules each of their hearts almost completely. It's a joy to see—and as a father to young children, I hope to see my life somewhat a mirror to theirs twenty years from now.
Hopeless Savages is an enjoyable series and three volumes is tragically too few for characters who deserve far more. I very much hope Van Meter will eventually return to this creative corner and round out the cast a bit more—or at least give us a story about college-aged Zero and Ginger.
Good Ok Bad features reviews of comics, graphic novels, manga, et cetera using a rare and auspicious three-star rating system. Point systems are notoriously fiddly, so here it's been pared down to three simple possibilities:
3 Stars = Good
2 Stars = Ok
1 Star = Bad
I am Seth T. Hahne and these are my reviews.

Review copy submission may be facilitated via the Contact page.
Browse Reviews By
Other Features
Popular Sections:
Best Books of the Year:
Other Features:
Connect
Comics by Seth T. Hahne