Study Guide for What a Wonderful World!
Notes: Several months back, we ran Inio Asano's What a Wonderful World! (vols. 1 and 2) for our Graphic Novel Bookclub. Like all of our meetings so far, it was an awesome time. None of our members have been, really, comics readers and What a Wonderful World! was, for several members, the first Japanese graphic novel they had ever read—and certainly their first experience reading a book right-to-left. This study guide offers the questions I created, designed both to spark conversation about the work and to underscore its depth, and includes a helpful character chart for tracking the tangled web of relationships that Asano presents.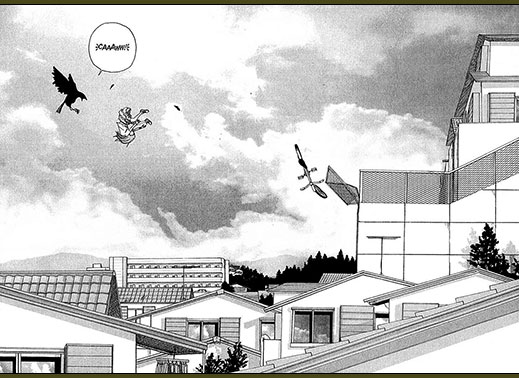 Behold the image that sold me on the series.
Discussion Questions
How many of you have very much experience with Japanese writing or culture? Did you ever feel like the foreignness of Asano's work was a hindrance to your enjoyment of What a Wonderful World! (WAWW!)?
In reading reviews of WAWW! over the last couple days, I ran into quite a few reviewers who didn't understand the book in narrative terms. Did you have any trouble keeping characters and storylines straight? And what do you attribute that to?
While WAWW! is not nearly so intimately planned design-wise as some other books (e.g. Asterios Polyp or Watchmen), Asano still shows a masterful grasp of the visual language. Were there any particular visual pieces that really stood out to you? Were there any parts where you felt Asano's art fail the reader?
WAWW!, with its having tracks instead of chapters and the obviously musical title, is presented in something like the form of a two-disc concept album. How do you think this works in the books' favour and do you think it at all hinders Asano's work?
I found what I believe to be two recurring themes that govern the book. What overarching themes did you pick out? And if WAWW! is meant to be absorbed as a concept album, what do you think Asano's central purpose or concept is? What is the story meant to convey?
Do you think Asano proposes a solution to his characters' problems or do you think he is merely presenting the problems? What do you think of his choice in either case?
Where do you think the national disease fits in? What do you make of some of the story's other fantastic elements?
At the end of the day, how do you evaluate the work in terms of value (was it $20 a fair price), worth (is Asano's purpose worthy of consideration?), and enjoyment?
---
Characters
WAWW! boasts an unwieldy assortment of characters. From reading reviews and talking to friends, a common complaint revolves around the difficulty in telling one character from another and in remembering how different characters relate within the scope of the story. To help readers place all the characters accurately, I've provided this chart mapping out the connections or relationships between Asano's characters. (Note that instances of smaller images are in place to provide visual reference to a character's alternate visual identity—e.g. Horita with mohawk vs. Horita in the present). I've also provided references to characters of low importance simply so that readers might help distinguish them from other characters (e.g. the Bear's Girlfriend vs. the Bear's hostage).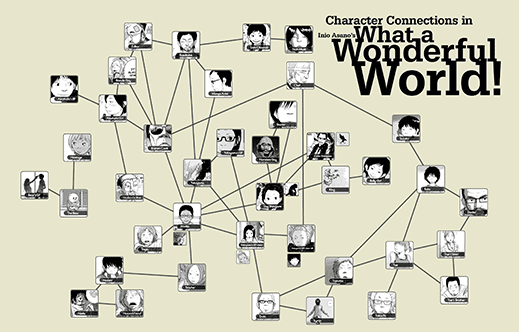 Click image to enlarge
Good Ok Bad features reviews of comics, graphic novels, manga, et cetera using a rare and auspicious three-star rating system. Point systems are notoriously fiddly, so here it's been pared down to three simple possibilities:
3 Stars = Good
2 Stars = Ok
1 Star = Bad
I am Seth T. Hahne and these are my reviews.
Support me by buying my art on Etsy
Review copy submission may be facilitated via the Contact page.
Browse Reviews By
Other Features
Popular Sections:
Best Books of the Year:
Other Features:
Connect
Comics by Seth T. Hahne