Study Guide for Daytripper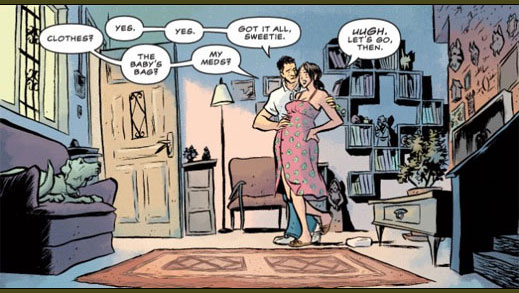 Discussion Questions
This one may be rather obvious, but why do you think these brothers named the book as they did?
Let's talk about the art. What did you enjoy about it? Was there anything you would be hesitant to endorse? Did you feel it was "right" for the kind of story Moon and Bá intended to tell? Why do you think that they switched up the art chores for the couple of pages they did (notably the dream scenes featuring Iemanjá and the section in chapter 9 that revists Brás' time as an obituary writer)?
What did you think of the writing? Do you think it paired well with the art?
Daytripper is a book created by two Brazilians and is set in Brazil. Did Brás' story feel very foreign to you? And if so, did this magnify the story or detract from it in your experience? If not, what made Daytripper a comfrotable story for you?
Brás' father, after his desert speech, says that "people like to believe there are mysteries yet to be discovered, loves to be lived" (p. 63). Do you think that Daytripper explores this idea beyond simply using it as a segue into meeting Ana in the bakery?
Right after this, Benedito recalls something his wife said when they first met. He then tells Brás that "life is made of these moments. Relationships are made of such moments, such choices, such actions. You should look for such moments in life, son... the ones that make all the others worthwhile" (p. 64). How does Daytripper explore this concept?
In the dream chapter, Brás explains life to his son, saying "Life is like a book, son. And every book has an end. No matter how much you like a book, you will get to the last page and it will end. No book is complete without its end. And once you get there, only when you read the last words will you see how good the book is" (p. 218). Daytripper is a book intimately concerned with mortality and its place in life. What did you think of the book's treatment and philosophy of death?
If you had to summarize Daytripper, how do you think you would do it? What is this book about, what is its point?
What did you think of the book's non-linear structure, the misordered repetition of lives?
What do you think we're to make of the dream chapter? How do you interpret the book's conclusion? How about its supernatural instances in chapter 2? Which was your favourite chapter?
In his introduction, Craig Thompson speaks of Daytripper as if its the perfect blend of fantasy and realism, of escapism and cynicism. In his postscript, however, Fábio Moon says the book is "firmly based on reality." Which of these readings seems more like your own experience with the book? Or do you think Thompson and Moon's readings are compatible?
At the end of the day, are you on board with the intended message of Daytripper or do you find yourself reluctant to embrace its demarcation of human relationship and purpose?
The Ages of Brás
11 - First kiss
21 - Meets Olinda
28 - Dumped by Olinda
29 - Meets Ana
32 - Father's speech at the Municipal
33 - Writes famous obits
38 - Goes to Acemira to find Jorge
41 - Birth of Miguel
47 - Brain tumor while on tour
76 - More brain tumors
Additional Resources
Iemanjá
The Umbanda religion worships Iemanjá as one of the seven orixás of the African Pantheon. She is the Queen of the Ocean, the patron deity of the fishermen and the survivors of shipwrecks, the feminine principle of creation and the spirit of moonlight. A syncretism happens between the catholic Nossa Senhora dos Navegantes (Our Lady of the Seafaring) and the orixá Iemanjá of the African Mythology. Sometimes, a feast can honor both.

In Salvador, Bahia, Iemanjá is celebrated by Candomblé on the very same day consecrated by the Catholic Church to Our Lady of Seafaring (Nossa Senhora dos Navegantes).[6] Every February 2nd, thousands of people line up at dawn to leave their offerings at her shrine in Rio Vermelho.

Gifts for Iemanjá usually include flowers and objects of female vanity (perfume, jewelry, combs, lipsticks, mirrors). These are gathered in large baskets and taken out to the sea by local fishermen. Afterwards a massive street party ensues. Iemanjá is also celebrated every December 8 in Salvador, Bahia. The Festa da Conceição da Praia (Feast to Our Lady of Conception of the church at the beach) is a city holiday dedicated to the Catholic saint and also to Iemanjá. Another feast occurs on this day in the Pedra Furada, Monte Serrat in Salvador, Bahia, called the Gift to Iemanjá, when fishermen celebrate their devotion to the Queen of the Ocean.
Map of Brazil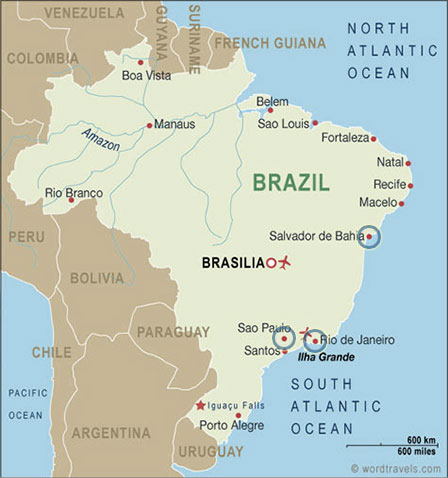 The three principal cities in the book are circled:
Sao Paulo, Rio de Janeiro, and Salvador de Bahia
Miscellaneous
Good Ok Bad features reviews of comics, graphic novels, manga, et cetera using a rare and auspicious three-star rating system. Point systems are notoriously fiddly, so here it's been pared down to three simple possibilities:
3 Stars = Good
2 Stars = Ok
1 Star = Bad
I am Seth T. Hahne and these are my reviews.
Support me by buying my art on Etsy
Review copy submission may be facilitated via the Contact page.
Browse Reviews By
Other Features
Popular Sections:
Best Books of the Year:
Other Features:
Connect
Comics by Seth T. Hahne